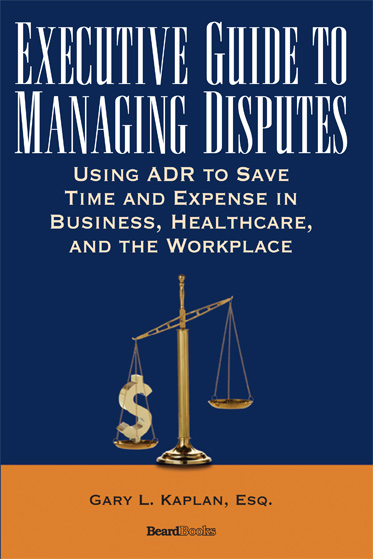 Executive Guide to Managing Disputes:
Using ADR to Save Time and expense in Business, Healthcare, and the Workplace
By Gary Kaplan


1587982986 - $49.95




Publisher Comments

Drawing upon more than 25 years experience as a business lawyer, arbitrator, and mediator, Gary Kaplan not only explains why litigation is so costly, but also how to manage disputes sensibly to avoid unnecessary litigation, reduce costs, and improve results.

The Executive Guide draws from the latest scientific research and economic theory to explain, contrary to popular sentiment, that the high cost of litigation is systemic, rather than the fault of supposedly greedy lawyers. Indeed, litigation is a perfect storm of circumstances that leads to bad decisions about when and if to settle business disputes and why it is such an inefficient process for obtaining decisions and resolving claims.

The Executive Guide shows how ADR (i.e., Alternative Dispute Resolution), such as mediation and arbitration, can short-cut disputes, and how to use often inexpensive dispute management programs to contain costs and achieve favorable outcomes that focus on cultivating positive business, workplace, and healthcare relationships.

For More Information CLICK HERE

CLICK HERE to listen to a podcast by the author discussing Alternative Dispute Resolution.

"Kaplan's Executive Guide unravels the mysteries, complexities, and absurdities of modern litigation and its alternatives with penetrating insight, fine judgment, and common sense."
—Douglas G. Baird, Harry A. Bigelow Distinguished Service Professor of Law, The University of Chicago Law School

"Provocative and well-written, Gary Kaplan's book offers lawyers and business executives a new framework for considering and addressing costly disputes. Although litigation is sometimes necessary, the Executive Guide persuasively shows the importance of planning for potential lawsuits and using proven ADR processes to manage and contain their impact."
—Judith Harris, Esq., Partner, Reed Smith, LLP

"As one who had a strong case, but unrealistic expectations as to time and monetary cost of litigation, I encourage every executive, business owner, and healthcare provider to read Gary Kaplan's Executive Guide to Managing Disputes. As Mr. Kaplan persuasively explains, the high cost in time and money and uncertainty of litigation makes it a dubious and stressful undertaking, even for the strongest cases. In view of this problem, Gary Kaplan's book, in a sensible and compelling manner, encourages business and healthcare professionals to plan for disputes rather than unrealistically hope that none will arise. By using Gary Kaplan's ADR guide, one can safeguard against costly, time consuming, and wasteful litigation."
—David Gilliand, President, Geodax Technology, Inc.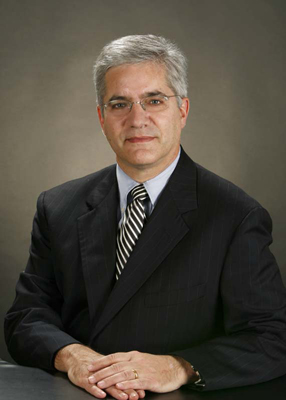 Gary L. Kaplan is attorney with more than 25 years experience in commercial litigation, business transactions, and dispute resolution. Mr. Kaplan serves as an arbitrator and mediator for the American Arbitration Association, the American Health Lawyers Association, the National Arbitration Forum, the CPR Institute and the United States District Court of the Western District of Pennsylvania. Mr. Kaplan received his B.A., summa cum laude, with distinction in economics from Yale University (1980) and his J.D. from the University of Chicago Law School (1983).


Mr. Kaplan is a Partner in the Pittsburgh firm of DeForest Koscelnik Yokitis Kaplan & Berardinelli and he teaches as a Professorial Lecturer in Law at The George Washington University Law School in Washington, D.C. From 1991 through 2003, Mr. Kaplan practiced at Reed Smith, LLP, which he joined after serving as the Director of the Trade Remedy Assistance Office of the U.S. International Trade Commission in Washington D.C. and after practicing in Los Angeles with the law firm of O'Melveny & Myers.

Mr. Kaplan's legal practice focuses on information technology ("IT"), intellectual property licensing, e-commerce, antitrust, competition law, and commercial litigation. He is a member of the state bars of Pennsylvania, District of Columbia, California, Ohio, and West Virginia, and he serves as Chairman of the Legislation and Class Actions subcommittee of the American Bar Association's Arbitration Committee.

Foreword

9

About the Author

11
CHAPTER ONE: The Executive's Guide to Litigation:
What to Expect and Why Even Winners Lose

13

The Anatomy of a Lawsuit
13
Investigation and Pleadings
13
Preliminary Conference and Scheduling
15
Discovery
16
Expert Discovery
19
Pretrial Motions
20
Trial Preparation
21
Jury Selection
22
Trial
23
Post-Trial and Appeals
25

CHAPTER TWO: Chapter II: The Persistence of Irrational Lawsuits

26

The Honeymoon: In Love with Your Case
26
Self-Serving Bias: Confusing Fairness with Self-Interest
27
Confirmation Bias: Seeing What We Want to See
29
Availability: "What We Don't Know (or Understand) Can't Hurt Us"
33
Attribution Error: Assuming the Worst of the Opposition
34
Overconfidence, Undue Optimism and Illusions of Control
34
Conflicting Risk Profiles
37
Married to Your Case with No Way Out
38
Conclusion
40
CHAPTER THREE: The Litigation Problem: An Inefficient Process for Deciding Disputes
41
The Characteristics of Efficient Dispute Resolution
42
Wasteful Redundancy
44
The Invisible Hand Gone Awry: Incentives That Promote Inefficiency
45
Passive Decision Makers
53
Uncertainty as an Impediment to Settlement
55
Conclusion
56

CHAPTER FOUR: An Overview of Dispute Resolution Alternatives

58

Negotiation Before Litigation
58
Negotiation During Litigation
59
Mediation
60
Arbitration
63
Dispute Management and Avoidance
63

CHAPTER FIVE: Why Mediation Can Often Resolve Disputes More Effectively than Direct Negotiation

66

An Economic Model for Settlement of Commercial Disputes
67
Interest-Based Approaches to Healthcare and Workplace Disputes
68
Information Risks
70
Reactive Devaluation
70
Agency Problems and Intraparty Conflicts
71
Overcoming Distrust
73
Reality Checking and Case Valuation
74

CHAPTER SIX: Arbitration: A Potentially Efficient Alternative

76

Background
76
An Overview of Business Arbitration
77
Efficiency Risks of Arbitration
79
Efficient Options for Arbitration
81
Advance Selection of an Efficient Arbitrator
82
Cost-Saving Procedural Rules
82
Prohibiting Prehearing Depositions
83
Prohibit and/or Limit Prehearing Motions
83
Set Time Limits for Completion of the Arbitration
84
Conclusion
84

CHAPTER SEVEN: Models for Efficient Resolution of Business Disputes: Investigatory Mediation and Arbitration and Co-Expert Mediation

85

Investigatory Mediation and Arbitration
85
Co-Expert Mediation
90

CHAPTER EIGHT: Dispute Containment and Management of Project Disputes

92

Managing Potential Disputes with Effective Contracts
93
Managing Disputes as They Arise
93
Management of Project Disputes
94

CHAPTER NINE:Dispute Management Systems: Case Studies and Cost Savings

97

Comprehensive Dispute Management
98
Commercial and Product Liability Disputes
104
Workplace Dispute Systems
107
Healthcare Dispute Systems
114
Case Study Conclusions
118

CHAPTER TEN: Development and Implementation of Dispute Management Systems

120

Impediments to the Adoption of ADR
120
Successful Dispute Management and Paradigm Change
122
Dispute Management Systems for Healthcare and Business Relationships
126
Dispute Management Systems for the Workplace
127
System Design Phase I: Project Requirements and Scope
129
System Design Phase II: Project Architecture
131
System Design Phase III: Build Out
132
System Design Phase IV: Testing, Refinement, and Implementation
133
System Design Phase V: Monitoring, Assessment, and Improvement
133

CHAPTER ELEVEN: The Future: Online Dispute Resolution and Virtual Sessions

135

Automated Negotiation Systems
137
Facilitated Negotiation Systems
138
Online Arbitration
138
Online Mediation
139
The Future: ADR in Virtual Worlds
140
ADR in Virtual Sessions
144

CHAPTER TWELVE: Conclusion

148

Works Cited
150