Calling a Halt to Mindless Change: A Plea for Commonsense Management
By John MacDonald


2004/06 - Beard Books
1587982218 - Paperback - Reprint - 256 pp.
US$34.95

This book serves as a guidepost to a sensible approach to organizational change through normal decision-making cycles.

Publisher Comments

A business needs to comprehend and adapt to changing circumstances. Each new fad or phase of proposed change or vaulted wisdom leaves many companies with another layer of barnacles that in time encrust the organization and impede progress. Instead of resorting to the recommendations of change gurus, in practical terms most companies can launch desirable change through their own normal decision-making cycles. Anticipated change can provide positive advantages and can be effective if managers will only view the future in terms of evolutionary common sense. This book will serve as a guidepost for such a sensible approach for business executives and those on a management career path.

From an earlier version:

Flash fires (like downsizing), false prophets (like many management gurus), and hysteria ('change or die'). There's an apocalyptic quality in the way businesses operate today, where every new 'ism' from every hot consultant is treated as gospel.

Giving voice to the vast majority of corporate employees, the highly respected author and consultant John Macdonald says 'enough is enough.' He also sees too much reliance on human resource departments and lawyers, too much focus on short-term measurements--and far too many fads.

In this new book, Macdonald makes the strong, rational, and long-awaited argument that common sense must be put back into the decision-making process. Businesses need to get back to managing the 'business,' organically incorporating only those changes and practices that can actually improve their operations, and discarding all the others.

Some highly successful corporations -- including Wal-Mart, 3M, Arthur Andersen, Toyota, and Motorola -- do this already. Macdonald takes the reader inside these leading organizations to uncover their formulas for long-term success.

JOHN MACDONALD (Banstead Village, Surrey, UK) is famous for bringing quality management to the UK. He established with Philip Crosby one of the largest management consulting firms in Great Britain, and later formed his own firm. He is the author of 'Global Quality' and a series that includes 'Understanding Total Quality Management in a Week' and 'Understanding Benchmarking in a Week.'


From Henry Berry, Turnarounds and Workouts, September 15, 2005
MacDonald is not against change. He is not a reactionary or an ideologue. Nor is he dogmatic. He does not have ideas he is trying to persuade business leaders to adopt and follow. He does have a sense of urgency, however, in arguing that change for the sake of changed because it is in vogue or because a group of much-publicized business "gurus" advocates it is wrong-headed. According to MacDonald, such thoughtless change prompted by external sources is disruptive and usually unproductive for the large majority of American businesses.
This is the "mindless change" MacDonald criticizes. But he does more than just criticize it. He introduces principles and advice on how to be aware of change and respond to it continually, substantively, and productively. Such a response should be never-ending. It should be a way of life, the modus operandi for a business concerned about its survival. Appropriate change is necessary for a business to keep up with the market for its products or services, satisfy and thus keep its customers, and provide security for its employees. Just as with individuals or cultures, businesses that don't change inevitably wither and die away.
In urging sensible change--as opposed to change because it is fashionable, for example--this author goes out of the box of typical business guide books. At the front of each chapter are three or four quotes on time in general or its parts of past, present and future. These quotes are from mostly literary sources, including the Bible, poets, and British essayists.
Calling a Halt to Mindless Change, first published in 1998, is still relevant and useful to businesses in their daily operations, their relationships with both customers and employees, their long-term strategies, and their visions. although organization--i.e.., structure--does have a part in nurturing a business's grasp of time, such a grasp is not based on organization. Its primary basis is a business's relationship with its employees. While change has always been a part of the business world, this relationship with employees is particularly important where more highly educated and highly skilled people "demand a share in determining or at least influencing their own destiny." Enlightened companies "are already demonstrating that open communications, empowerment and education and training of their people are decisive factors in their success."
MacDonald points to Toyota and P&G as two companies that have been successful over a long period without engaging in the reengineering and other trendy "revolutionary changes" called for by the faddish business gurus. The author cites both Toyota and P&G as examples of companies that are leaders in their industries because they continually change naturally and productively in response to consumer markets, the latest generation of employees, and the normal ceaseless, ups and downs of both domestic and international economic events. In this book, MacDonald teaches how such companies remain successful without undergoing wrenching periods of change.
From Library Journal:
Citing the glut of management fads, the author pleads for more common sense in the policies of managing companies while advocating his own "evolutionary organization" and shared values among organization, customers, employers, and community. Copyright 1999 Reed Business Information, Inc.
From The Reviewer:
(http://www.asq1420.com/rev/Rev30.htm)
Kudos to author Macdonald (author of "Understanding TQM in a Week," "Understanding Benchmarking in a Week," and "Global Quality") for his serious pause for reflection about the clutter of management ideas now competing for chief executive attention. Following Micklethwait and Wooldridge's successful "The Witch Doctors," a similar focus on unsubstantial management recommendations, Macdonald offers sobering advice to counter what he calls the mindless adoption of the new "isms" and four-legged absolutes trumpeted by dancing elephants (management consultants) clamoring to be heard. According to Macdonald, the issue is not so much that a management idea like reengineering is implemented, as is the mindless, irresponsible manner in which the idea is simply adopted by management with little appreciation for the more correct approach, the "adaptation" of the idea within the reality of the prevailing culture of the organization. He describes numerous examples of these "false gods" that have confused management (including TQM) and obscured the simple truths of business, explains the real nature of change, including his own interesting perspective that the pace of change is not as dramatic as is fashionable to believe, and describes his simple common sense elements of an "evolutionary organization" more likely to succeed with the reality of change. Numerous examples of these "evolutionary organizations" (3M, Arthur Andersen, Wal-Mart, Toyota, Motorola) help connect this treatise that is an excellent aid in balancing the din of management guru babble filling the shelves in this crowded genre. Highly recommended for professionals in any organization.
From Book Info:
Author makes the strong, rational, and long-awaited argument that common sense must be reinfused into management's decision-making process. DLC: Organizational change.
From Amazon.Com:
A wonderfully thought provoking work by a man with much experience and knowledge. Mr. MacDonald maintains that so-called revolutionary changes are the result of mis-management in the first place, and many "management gurus" are ill informed, self serving, and dangerous. He laces his book with examples of both evolutionary companies and "revolutionary" firms, outlining their successes and failures. Three simple but profound ideas form the center of this book; adapt instead of adopt, evolution not revolution, and responsibility. If you are feeling like you are behind the curve because you have not studied or adopted the latest management fad, pause, take a deep breath, and read this book.

From Amazon.Com:
This work argues that thoughtfulness must be used in decision making, limiting change to what will improve operations. It gives examples of companies that have been successful by focusing on vision, customers, employees, communications, and ethics. Sends an important message in these change-obsessive times.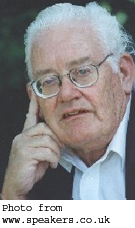 John Macdonald is a recognized pioneer in bringing the quality and managerial revolution to Britain. In the United States, he has been referred to as "the leader of the new wave of implementers." As the author of numerous books, and as a sought-after speaker, his credibility has been firmly established to discuss the new management culture. His experience in business, politics, and in teaching enhance his regarded reputation for practical advice.

Preface
vii
Acknowledgments
ix
Author's Note
Part One: Mindless Change.
1.
1.
Between Gods
3
2.
False Gods
27
3.
Entrenched Fads
50
4.
Recent Revolutions
62
5.
Mindless Education
92
Part Two: Pause of Thought
111
6.
Anticipating Change
113
7.
Whatever Happened to Buck Rogers?
132
8.
A Global Challenge
146
Part Three: Simple Common Sense
167
9.
Purpose
169
10.
Focus
180
11.
Communication
195
12.
People
211
13.
Stewardship
226
Further Reading and References
235
Index
239