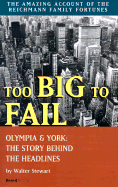 Too Big to Fail: Olympia & York: The Story Behind the Headlines
By Walter Stewart


2000/10 - Beard Books
1587980827 - Paperback - Reprint - 345 pp.
US$34.95

The astonishing story of the rise, fall, and revival of the Reichmann family fortunes.

Publisher Comments

This is the amazing account of the Reichmann family who escaped from Nazi-occupied Hungary in World War II to become listed in Fortune magazine in 1991 as the fourth richest in the world. Their flagship company, Olympia and York, was deemed "too big to fail" by the Wall Street Journal; but it did fail. In a clear and often humorous way, this book chronicles the disaster, the restructuring process, and the astonishing rise of Reichmann International from the ashes of the predecessor company.

In 1991, the Reichmann family of Toronto was listed in Fortune magazine as the fourth richest on earth, with a combined wealth of $12.8 billion. From humble beginnings, the family escaped from Nazi-occupied Hungary to Morrocco during World War II. In the mid-1950s, amidst the turbulence of Morocco's bid for independence from France, they emigrated to Canada, and created an astounding real estate and construction empire.
They built the World Financial Center in New York, First Canadian Place in Toronto, and Canary Wharf, an enormous mixed-use project in London. They were smart, highly ethical, prudent, and generous philanthropists as well. Their flagship company, Olympia & York, was deemed by the Wall Street Journal as perhaps being "too big to fail."
But in 1992, O&Y did fail, and in a big way. This book tells the story of the disaster, the blunders of the various dramatis personae, details of the restructuring process, and the impact on the victims. The author also addresses the "big-picture" questions, in a clear, chatty, and often humorous way.
Too Big to Fail begins to tell a second story, too, an astonishing one, of Reichmann International, a partnership with George Soros announced only two days after the restructuring of Olympia & York was approved. Within months, Reichmann International had secured loans and had several construction projects underway in Mexico. Indeed, the company is still thriving, and currently working on a 55-story, 850,000-square-foot tower in downtown Mexico City.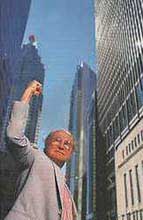 In his past, Walter Stewart has written about the big goofs and games played by government and corporations in real estate, banking, newspaper publishing, energy, airport construction and more. He has also written two novels. But he has now decided to write about Canada and Canadians
The titles of some of his 25 books tell the story: Towers of Gold, Feet of Clay (a 1982 attack on the banking system that is just as timely today), Hard to Swallow (on the food industry), The Golden Fleece (how the stock market steals our money) and, his latest, Dismantling The State, Downsizing to Disaster (in which he explains how corporate Canada has virtually been let off the hook in tax terms).

| | | |
| --- | --- | --- |
| | Prologue: Death-Watch Beetles in Courtroom 6-1 | 1 |
| Part 1 | Beginnings | |
| 1. | Flight into Danger | 19 |
| 2. | The Sons Also Rise | 30 |
| 3. | Once I Built a Tower | 47 |
| Part 2 | The Reichmann Empire | |
| 4. | Wonderful Town | 61 |
| 5. | Different Drummers | 70 |
| 6. | A Marriage Made in Bay Street | 86 |
| 7. | Building a Palace on a Mountain of Muck | 97 |
| 8. | The Acquisitors | 105 |
| 9. | Gulf Wars | 115 |
| 10. | The Campeau Capers | 131 |
| Part 3 | The Road to Canary Wharf | |
| 11. | Down in the Docklands | 145 |
| 12. | Trickling Down on the Isle of Dogs | 152 |
| 13. | The Manufacture of a Live Grenade | 166 |
| 14. | How the Reichmanns Took the Tube | 177 |
| Part 4 | The Crisis | |
| 15. | Tar Baby | 193 |
| 16. | A Sinking Feeling on Canary Wharf | 208 |
| 17. | The Thousand Cuts | 222 |
| 18. | The Grenade Goes Off | 237 |
| 19. | Sisyphus, with an Attitude | 249 |
| | Epilogue: Don't Cry for Them, Financial Post | 266 |
| Appendix 1 | The Companies Under Protection | 277 |
| Appendix 2 | The Shareholders | 279 |
| Appendix 3 | The Empire at its Height | 280 |
| Appendix 4 | Key Dates | 290 |
| | Notes | 306 |
| | Bibliography | 325 |
| | Index | 329 |