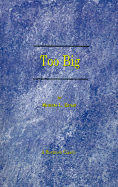 Too Big
By Morris L. Ernst


2000/09 - Beard Books - Business Classic
1587980606 - Paperback - Reprint - 332 pp.
US$34.95

Contrary to the many who praise the efficiency and economy of bigness, it is argued here that bigness is not inherently evil but it can destroy individual and social values.

Publisher Comments

On a topic as controversial sixty years ago as it is today, this famous lawyer echoes the thesis of Supreme Court Justice Louis D. Brandeis: that the pursuit of size as a symbol of success is ruinous to our society, paints a fascinating picture of the future of man while positing that sheer bigness can lead to the depreciation of humanity. The condemnation of bigness in certain forms and under certain circumstances does not mean the endorsement of an inefficient, ineffective one-man operation. Rather, the theory presented in this book is that, in a democracy, the economic and pragmatic mean must be found for every type of business, for government, and for other organizations. While there is no inherent evil in mere size, and while some businesses, such as utilities, need to be vast in order to function effectively, there is a point beyond which further expansion results not only in a loss of profit and capital, but in the destruction of individual and social values.

No book reviews available

Morris Leopold Ernst was born in 1888 in Uniontown. He received his B.A. in 1909 from Williams College, and then proceeded to earn his LL.B. in 1912 from New York Law School. He was admitted to New York Bar in 1913, and after being a treasurer, bookkeeper and salesman, started to practice law in 1915 specializing in labor, tax, libel and censorship. He held several government posts: special assistant to U.S. Attorney General; personal representative of Franklin Roosevelt abroad during World War II; member of Harry Truman's Civil Rights Commission.
Member of the American Civil Liberties Union, American Political Science Association, American Bar Association, Phi Beta Kappa, and Phi Gamma Delta.
He died in in 1976.

| | | |
| --- | --- | --- |
| | Foreword | vii |
| | Prelude | xi |
| I | The Biggest Show on Earth | 3 |
| II | Cats and Dogs | 14 |
| III | Enough Rope | 27 |
| IV | Big Steel | 48 |
| V | Lords and Laborers | 68 |
| VI | Black Diamonds | 82 |
| VII | Nickels and Dimes | 97 |
| VIII | Fire, Theft--and Burglary | 112 |
| IX | Supercolossal | 132 |
| X | The Staff of Life | 161 |
| XI | Small Straws and Big Winds | 180 |
| XII | The Inventive Mind--Big or Small | 197 |
| XIII | Dollars and Cents | 207 |
| XIV | The Cities We Live In | 233 |
| XV | And How About the Government? | 252 |
| XVI | We, the People, Have the Power | 281 |
| XVII | The Expansion of True Democracy | 291 |
| | Appendices | 297 |
| | Index | 303 |