The Supreme Court of the United States: Its Foundation, Methods and Achievements
By Charles Evans Hughes


2000/04 - Beard Books - Law Classic
1893122859 - Paperback - Reprint - 277 pp.
US$34.95

A unique view of the inner workings of the Supreme Court by one of its illustrious Justices.

Publisher Comments

This captivating book originally published in 1928 comprises a series of six lectures given by Justice Charles Evans Hughes at Columbia University. He has endeavored in a capsulized form to interpret the work of the court-its origins, methods, the general principles that govern it, and the way in which the Justices approach and perform their tasks. In depicting the highest levels of judicial work, Justice Hughes shares with us the points of view of our most illustrious jurists, albeit by brief excerpts. The overarching aim of this compact book is to help ordinary people better understand an institution that, despite its constant and unique service, is still a mystery to most.

No book review available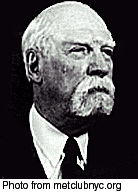 Charles Evans Hughes, 1862-1948, was educated at Madison (now Colgate) and Brown universities and at Columbia University Law School. He practiced law in New York City, and also taught at Columbia, Cornell, and New York law schools. He was elected governor of New York in 1906 and re-elected for a second term in 1908. He served as an Associate Justice of the Supreme Court of the United States, 1910-1916. He was the Republican candidate for President in 1916. He was the Secretary of State, 1921-1925. Mr. Hughes was sworn in as Chief Justice of the Supreme Court on February 24, 1930, and he retired in 1941.

| | | |
| --- | --- | --- |
| | Introduction--Foundations | 1 |
| | The Court at Work--Organization--Methods | 42 |
| | Achievements--Cementing the Union | 78 |
| | The States and the Nation | 118 |
| | Liberty, Property and Social Justice | 157 |
| | Table of Cases Cited | 243 |
| | Index | 257 |