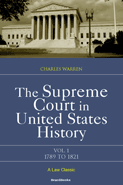 The Supreme Court in United States History
By Charles Warren
1999/09 - Beard Books - Law Classic

Volume I (1789-1821) - 560 pp.
1893122182 - Paperback - Reprint


US$34.95
Volume II (1821-1855) - 566 pp.
1893122190 - Paperback - Reprint
US$34.95
Volume III (1856-1918) - 546 pp.
1893122204 - Paperback - Reprint
US$34.95


A term-by-term exposition of the Court and its major decisions are explored as factors in the course of history.
Publisher Comments
Lawyers, historians, and laymen will enjoy reading this exposition of the Court and its decisions as living elements and important factors in the course of the history of the United States. The Court is described term-by-term so that its decisions can be correlated to political events. Views of important cases by then contemporary writers and statesmen are stressed to set the impression made on the public which, according to the author, often has had as great an effect on history as the decisions themselves. The important role that public opinion attacks upon the Court have played is emphasized.

No book review available


Charles Warren was born in Boston, Massachusetts on March 9, 1869 to Hon. Winslow and Mary Lincoln. He received his A.B. from Harvard University in 1889, and his LL.D from Columbia University in 1933. He was admitted to bar in 1892 and practiced at Boston. He became a private secretary to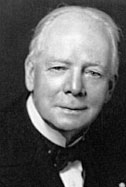 Gov. William E. Russell in 1893; Associate in Gov. Russell's law practice until Russell's death in 1896. He then became a senior member of Warren and Perry, Boston (1897-1914); chairman of the Civil Service Commission (1905-11); assistant attorney general of the United States, Washington (1914-18). He was appointed special master by U.S. Supreme Court in case of New Mexico vs. Texas in 1924, and a lot of such cases. Academically, he was Stafford Little lecturer in Princeton (1924), University of Rochester Cutler lecturer on Constitution (1927), Boston University Law School Bacon Lecturer on Constitution (1928); James Schouler lecturer on history, John Hopkins (1928); William H. White lecturer on jurisprudence, University of Virginia (1932); Julius Rosenthal Foundation lecturer on law, Northwestern University Law School (1934); Norman Wilt Harris lecturer on neutrality, University of Chicago (1936); Frank Irvine lecturer, Cornell University (1937); Cutler lecturer on Constitution, College of William and Mary (1940).
He was appointed by President Roosevelt as American member of the. Trail Smelter Arbitral Tribunal, 1937 (final decision filed 1941) and other similar positions. He was an officer and member of several organization ( Board of Overseers, Harvard College, Harvard Alumni Association, Conservatory of Music, Massachusetts Historical Society, American Society on International Law, National Institute of Arts and Letters, American Academy of Arts and Letters, American Philosophical Society).
He was the author of several books including History of the American Bar, The Supreme Court in United States History (3 vols.), 1922; and Bankruptcy in United States History, 1935.
He died August 16, 1954.

Other Beard Books by Charles Warren

Volume I

Preface
v
Abbreviations of Titles of Books Frequently Cited
xv
Introductory Chapter
1
Chapter I.
The First Courts and the Circuits
31
Chapter II.
State Sovereignty and Neutrality
91
Chapter III.
Chief Justices Rutledge and Ellsworth
124
Chapter IV.
Marshall, Jefferson and the Judiciary
169
Chapter V.
The Mandamus Case
231
Chapter VI.
Impeachment and Treason
269
Chapter VII.
Judge Johnson and the Embargo
316
Chapter VIII.
Pennsylvania and Georgia Against the Court
366
Chapter IX.
Judge Story, the War and Federal Supremacy
400
Chapter X.
The Judges and the Court-rooms
454
Chapter XI.
Corporate Charters and Bankruptcy
474
Chapter XII.
The Bank of the United States
499
Volume III

Abbreviations of Titles of Books Frequently Cited
ix
Chapter XIII.
Virginia Against the Court
1
Chapter XIV.
International Law
25
Chapter XV.
The Steamboat Monopoly Case
47
Chapter XVI.
Kentucky Against the Court
93
Chapter XVII.
Judiciary Reform
112
Chapter XVIII.
Constitutional Law and Daniel Webster
146
Chapter XIX.
The Cherokee Cases and President Jackson
189
Chapter XX.
The Last Years of Chief Justice Marshall
240
Chapter XXI.
Chief Justice Taney and Whig Pessimism
275
Chapter XXII.
Corporations and Slavery
313
Chapter XXIII.
Federal Powers, Tyler and the Girard Will Case
357
Chapter XXIV.
State Powers, Commerce and Boundaries
408
Chapter XXV.
Slavery and State Defiance
480
Volume II

Abbreviations of Titles of Books Frequently Cited
ix
Chapter XXVI.
The Dred Scott Case
1
Chapter XXVII.
The Booth Case, and Congressional Attacks
42
Chapter XXVIII.
Civil War and Chief Justice Chase
80
Chapter XXIX.
The Milligan Case
140
Chapter XXX.
Reconstruction
177
Chapter XXXI.
The Legal Tender Cases
220
Chapter XXXII.
The Slaughterhouse Cases and the Death of Chase
255
Chapter XXXIII.
Chief Justice Waite and the Fourteenth Amendment
284
Chapter XXXIV.
The Civil Rights Acts
322
Chapter XXXV.
Increase of Nationalism
344
Chapter XXXVI.
Expansion of Judicial Powers
385
Chapter XXXVII.
Chief Justices Fuller and White
413
Chapter XXXVIII.
Commerce and the Police Power
451
Appendix
List of Persons Nominated as Chief Justice and as Associate Justice of the Supreme Court of the United States, 1789-1921
479
Index
485