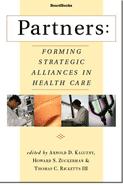 Partners: Forming Strategic Alliances in Health Care
By Arnold D. Kaluzny, Howard S. Zuckerman and Thomas C. Ricketts III


2002/09 - Beard Books
1587981513 - Paperback - Reprint - 256 pp.
US$34.95

This book provides the benchmark upon which to judge our progress in understanding and managing alliances within the contemporary world of health services.

Publisher Comments

This vital and promising series of papers was presented by experts in the field of health care management on November 11-12, 1993, at the National Invitational Conference on Strategic Alliances in Chapel Hill, North Carolina. The papers and commentary support the perspective that alliances in theory and in practice will play an increasingly important role in the provision of effective and efficient health services. They also underline that while alliances are designed to accomplish activities that cannot be achieved by any single organization, they present special challenges requiring effective management.

Referring to an earlier version:

With the alliances of today on track to become the health plans of tomorrow, questions regarding capabilities and potential problems spring to mind. This book explores the potential of today's alliances, and is based on the proceedings of the 1993 National Invitational Conference on Strategic Alliances, sponsored by the Agency for Health Care Policy and Research. Each chapter is followed by a series of commentaries from leading experts and policymakers.

From Henry Berry, Nightingale's Healthcare News, November 2006

The content of Partners: Forming Strategic Alliances in Health Care comes from a November 1993 conference in Chapel Hill, NC, that was held in conjunction with the Clinton Administration's proposals for sweeping change in the nation's healthcare system. The conference was attended by 80 of the nation's top healthcare administrators, academicians, physicians, and lawyers.
In a foreword to the book, which is a reprint of a 1995 publication, Kenneth F. Thorpe, Deputy Assistant Secretary for Health Policy at the Department of Health and Human Services at the time, conveys the Clinton Administration's position that strategic alliances are of particular value in healthcare. Not surprisingly, strategic alliances were to play an important role in the Administration's proposals for healthcare reform. The Administration's approach did not get far politically and thus did not bring reform. Nonetheless, the healthcare field has come to recognize the pertinence and value of strategic alliances, which have been embraced in business fields where change in consumer interests, technology, research, delivery systems, and other areas is ongoing. In sections that are well-organized, both topically and with internal references, the fundamentals and benefits of strategic alliances are explained. The book also offers instructive experiences in forming and administering such alliances.
Strategic alliances were not simply an approach touted by the Clinton Administration as a way of effecting healthcare reform. Nor were strategic alliances a theory arising from the business conditions and challenges at the time. Strategic alliances were, instead, a widespread arrangement to deal with the business environment of the early 1990s. This environment continues to this day, with no end in sight. For the most part, today's healthcare industry is characterized by new, often problematic, opportunities and challenges in greatly expanding markets that can be changed overnight by a financial report or research finding, new legislation and regulation, or the introduction of new technology. Howard Zuckerman, one of the editors, expresses it well, saying that the healthcare industry is a "turbulent environment [where] companies around the globe and across a multitude of industries are turning to alliances as a cooperative, interorganizational mechanism for adaptation." Strategic alliances uniquely enable participating organizations to extend their operational reach and work toward desirable strategic ends. Strategic alliances have thus become more than an ad hoc arrangement to help healthcare organizations get through a tough stretch or resolve a pressing problem. Strategic alliances have been incorporated into the healthcare field as an ever-present operational and strategic consideration. In the contemporary environment of continual change and unpredictable developments, many organizations face circumstances where strategic alliance is necessary to stay timely and competitive. As Zuckerman notes, "Strategic alliances are designed to achieve strategic purposes not attainable by a single organization, providing flexibility and responsiveness while retaining the basic fabric of participating organizations."
The rationale to form strategic alliances is the same for healthcare organizations as it is for other business entities. Organizations form strategic alliances because they recognize their value in engendering flexibility and bringing access to an ever-broadening array of resources and markets. As Barry Stein, president of Goodmeasure, Inc., notes, these are not trivial benefits, but are essential considerations of any corporation that hopes to remain relevant and vibrant. Healthcare organizations of all sizes and in all markets can enjoy the benefits offered by strategic alliances. Says Stein, "Alliances tend to be particularly important in unfamiliar markets. For larger organizations trying to enter local markets, it is sound practice to build local alliances because local knowledge and connections are valuable. Smaller organizations in local markets can take advantage of network ties outside their traditional boundaries to tap broader or perhaps global sources of materials, capital, or expertise."
While strategic alliances offer enhanced operational capabilities and higher strategic goals to practically every healthcare organization, such advantages are not gained automatically. Apart from whether strategic alliances prove fruitful, the inevitable management issues can be difficult to resolve. If an alliance is to be workable and beneficial, certain challenges have to be met by experienced, capable businesspersons. Some alliances come apart; and some do not fulfill their purposes. Even for strategic alliances that work, the management complexities are enormous. As one participant in the conference observed, the "rewards...must be incredible to justify all the extra short-term costs that go along with them." Partners: Forming Strategic Alliances in Health Care identifies the pros and cons of strategic alliances and offers advice and commentary on how to eliminate or minimize difficulties so healthcare organizations can partake of the rewards that strategic alliances singularly make possible.
Arnold D. Kaluzny, Howard S. Zuckerman, and Thomas C. Ricketts III are all professors in university health policy and administration departments. Geoffrey B. Walton is a top executive with Strategic Integration and Practice Operations at Sun Health, an Arizona company.

From BookNews, Inc.
Health service researchers and executives of health care organizations trade perspectives in six papers and comments on them that emerged from a November 1993 national invitational conference in Chapel Hill, North Carolina. Among the topics are the worldwide phenomenon of strategic alliances, rural hospital networks, and integrated delivery systems. Annotation copyright Book News, Inc. Portland, Or.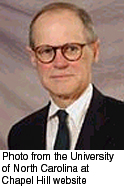 Dr. Kaluzny is Professor of Health Policy and Administration in the UNC School of Public Health and a Senior Fellow in the Cecil G. Sheps Center for Health Services Research. He has been the recipient of numerous awards including the NCI Year 2000 Award, the Edward G. McGavran Award for Excellence in Teaching and Bernard G. Greenberg Alumni Endowment Award. Dr. Kaluzny is a nationally recognized expert in cancer prevention and control, health services research and evaluation, and organizational theory and behavior. He has served on numerous national committees including Chairman of the Board of Scientific Counselors for the NCI Division of Cancer Prevention and Control, was a member of the NCI Special Review Group on Cancer Control, and presently serves as an Associate Editor of the Journal of the National Cancer Institute. He is the author of numerous articles and has co-authored several books, including Managing a Health Care Alliance: Improving Community Cancer Care, with Richard Warnecke, and Partners for the Dance: Forming Strategic Alliances in Health Care, with Howard Zuckerman and Thomas Ricketts.

Other Beard Books by Arnold Kaluzny
Thomas C. Ricketts, Ph.D., M.P.H., is Associate Professor of Health Policy and Administration at UNC-CH School of Public Health and Director of the North Carolina Rural Health Research Program and the Program on Health Policy Analysis at the Cecil G. Sheps Center for Health Services Research at UNC-CH. He is Editor of the Journal of Rural Health, and a member of the North Carolina Institute of Medicine. He was named the Outstanding Rural Health Researcher by the National Rural Health Association in 1997.
Dr. Howard S. Zuckerman, Professor and Director, Center for Health Management Research, University of Washington, Seattle, Washington.

| | | |
| --- | --- | --- |
| | Foreword: The Role of Strategic Alliances in Health Care Reform | ix |
| | Kenneth E. Thorpe | |
| | Preface and Acknowledgments | xv |
| 1 | Strategic Alliances: A Worldwide Phenomenon Comes to Health Care | 1 |
| | Howard S. Zuckerman, Arnold D. Kaluzny and Thomas C. Ricketts III | |
| 2 | Strategic Alliances: Some Lessons from Experience | 19 |
| | Barry Stein | |
| | The Commentaries: A Summary | 35 |
| | W. Richard Scott | 36 |
| | Tim Size | 40 |
| | Gerald Martin | 53 |
| | Neal Neuberger | 57 |
| 3 | The Creation of a Multiorganizational Health Care Alliance: The Charlotte-Mecklenburg Hospital Authority | 63 |
| | Harry A. Nurkin | |
| | The Commentaries: A Summary | 85 |
| | R. Paul O'Neill | 86 |
| | Paul Cooper III | 90 |
| | Alan Weinstein | 94 |
| 4 | The Structure of Strategic Alliances: Evidence from Rural Hospital Networks | 99 |
| | Jon B. Christianson, Ira S. Moscovice, and Anthony Wellever | |
| | The Commentaries: A Summary | 119 |
| | Robert J. Baker | 120 |
| | Ben W. Latimer | 126 |
| | Stephen Wood | 130 |
| | Edward J. Zajac | 134 |
| 5 | Strategic Alliances as a Structure for Integrated Delivery Systems | 139 |
| | William L. Dowling | |
| | The Commentaries: A Summary | 177 |
| | Michael O. Bice | 178 |
| | David Berry | 181 |
| | Stephen M. Shortell | 185 |
| | Jerald T. Hage | 192 |
| 6 | Implications for Research | 199 |
| | Howard S. Zuckerman, Arnold D. Kaluzny, Thomas C. Ricketts III, and Geoffrey B. Walton | |
| | Appendix A: A Method for Identifying Research Issues | 211 |
| | Appendix B: Conference Participants | 221 |
| | Index | 229 |
| | About the Editors | 237 |