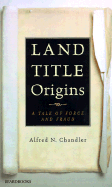 Land Title Origins: A Tale of Force and Fraud
By Alfred N. Chandler


2000/05 - Beard Books
1893122891 - Paperback - Reprint - 565 pp.
US$34.95

The engrossing story of early land ownership in America, based primarily on manipulation and land grabbing by powerful politicians.

Publisher Comments

A large part of the history of mankind is the story of the increase in population compelling the migration of people to acquire land on which to live and maintain themselves, and of wars to govern and exact tribute of others. Mass migration of Europeans to America was caused, not by widespread desire for religious freedom as often declared but by craving for land, and to escape the poverty in Europe emanating from feudalism. Thus begins this fascinating, exhaustively researched treatise on land ownership in North America, rich with detail on land holdings, transfers, and prices. Land tenure was manipulated by European monarchs from the early 1600's through the Revolutionary War. In the first century of the existence of the United States Government, greedy and unscrupulous men of political power and influence grabbed vast expanses of the public domain. Stopping short of nationalization, the author proposes a reform plan that would permit landowners to keep title to their properties, but require that rents be paid to the state. A story to be enjoyed by all historians,

No book review available

Alfred N. Chandler's family arrived in the New World in 1687. He taught for many years at the Wharton School at the University of Pennsylvania, and was a tireless advocate of land reform.

Encomium
vii
Preface
ix
Dawn of the American Conquest
1
Who Owned America?
12
Why Europeans Migrated to America
15
The Indians and Land
23
Manors
37
Indented Servants
39
Religion Liberty Overstressed as Motive for Migration
42
Virginia
48
Massachusetts, New Hampshire, Maine and New France
77
Connecticut
122
Rhode Island
142
Vermont
155
New York
164
The Delaware Region (Below the Schuylkill)
221
The Swedes and Dutch
226
New Englanders on the Delaware
242
The Dutch on the Delaware
245
The Plowden Grant
254
British Dispossess the Dutch
256
William Penn Claims Delaware
261
Maryland
273
New Jersey
302
The Carolinas
349
Georgia
377
The Gulf Region
381
Pennsylvania
398
The Trans-Appalachian Region
433
Kentucky
441
Tennessee
446
Texas
451
California
455
The Oregon Country
466
The Public Domain
474
Epilogue
514
Bibliography
521
Index
531