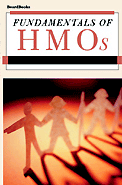 Fundamentals of HMOs
By Molly Shapiro


2005/08 - Beard Books - Reprint
1587982544 - Paperback - 268 pp.
US$34.95

A revealing insight into the thinking and operations of HMOs.

Publisher Comments

In this informative book, with a current Preface, the reader will gain an understanding of how HMOs operate. The book helps the reader understand in clear terms many of the controversial issues that surround this industry. For example, the insurance companies and the HMOs have been criticized and even vilified for the medical conditions that they will or will not cover. It is in this light that the book also addresses patients' rights. The purpose of this book is to create an overall awareness of the unique dynamics created by the HMO model and to stimulate change where appropriate.

From the back cover blurb:

Do you ever wonder what HMOs are doing for you or what they should be doing for you? Look no further. Molly Shapiro, a registered nurse with a master's degree in business administration and a doctorate in education is an expert on the subject. In this book, with an updated preface, she will answer your questions, tell you what your rights are, who the players are, and how they think.

The author discusses at length why HMOs, health care providers, hospitals and bureaucrats behave so recklessly with our health issue. The reason is simple. We are dictated to by insurance companies and the HMOs, and there are no alternatives, no competitive suppliers to turn to. We are not consulted in something very important to us--our own health care. The goal of this book is to create awareness of the problems and to stimulate controversy and change.

From Henry Berry, Nightingale's Healthcare News:

As a nurse, Molly Shapiro is practical minded about healthcare and sympathetic with a patient's position and concerns. As a person with advanced degrees in business and education, she grasps the bureaucratic, economic, and social complexities of a U.S. health system that is dominated by health maintenance organizations (HMOs). For this system to meet the needs and goals of all parties, "a realistic compromise must occur by all," she writes.

In Fundamentals of HMOs, which was originally published in 1999, Shapiro discusses how this realistic compromise might be crafted, and explains the place, roles, aims, and constraints of the different people (e. g., doctors and administrators) and different institutions in a vast healthcare system. Sitting at the center of this vast system are HMOs. In one chapter, a chart entitled "Integrated Delivery Systems" has an HMO in a small box in the middle of it. The primary purchasers of medical services – the federal and state governments and employers – are on the left side of the chart with lines leading to the boxed HMO. On the right, also connected by lines from the box, are the healthcare providers, including treatment facilities, clinics, and hospitals. This chart illustrates the HMO's central, key position in the healthcare system. A position, says the author, that can either be a "funnel or a bottleneck...because everyone [from the federal government to patients] must move through their web."

One of the book's primary accomplishments is to explain this complex organization in a straightforward manner. Shapiro recognizes that an understanding of the central role of HMOs must begin with a discussion of these healthcare system stakeholders linked to HMOs. Accordingly, the author has chapters on each of them. However, even when she is focused on one part of the system for the education of the reader, her focus is such that the part's relation to the whole is realized.

Shapiro then poses and answers key questions, for example: On whose side is the hospital system? And what is your right to healthcare as a managed care patient? In tackling these basic questions, she breaks down the complexities and presents a clear picture of the problems confronting the healthcare system.

This could not be done without Shapiro's knowledge of legislative processes; her familiarity with the profit-making psychology of capitalism; and her appreciation of the frustrations of caregivers, the ambivalence of doctors, and the bewilderments and apprehensions of patients. Shapiro also understands American culture with regard to healthcare, including not only the profit motive but also the concern for the less fortunate. This calls for an American remedy to the problems with the healthcare system at home rather than adoption of a Canadian, British, or Scandinavian system as recommended by some.

Shapiro acknowledges she does not have the answer to fixing the healthcare system; though she offers many relevant, practicable suggestions that would make parts of it better. "My hope is to lay out the situations [and] identify the stakeholders and their behaviors," Shapiro writes. Getting the best healthcare possible under the circumstances and improving the system is left up to others.

The author also recommends a "healthcare bill of rights," which some states have adopted. In lieu of an improved healthcare system, this bill of rights would give patients some specified, recognized rights within the system. A healthcare bill of rights is especially desirable because in most cases it is no longer individuals – patients – who are consumers of health services, but rather "employers and the government...since [e]mployers buy you benefits as an employee, and governments buy benefits for the elderly or poverty patients." Though Shapiro does not explicitly put it this way, this situation is healthcare without representation. Nearly everyone accepts the healthcare that has been chosen for them by employers and governments. When individuals have little input with regard to the decisions, maintenance, or quality of the system, it is not surprising that the system is resistant to change.

Because it is unlikely that there will be substantial improvements in the healthcare system any time soon, it is crucially important for individuals to understand the organization and workings of the system. This will give them some power, limited as it may be, to do what they can to ensure they get the best healthcare possible under the circumstances. Fundamentals of HMOs accomplishes this task because of the author's singular attributes of extensive experience within the HMO-dominated system, an empathetic understanding of patients' interests, and constant awareness that the purpose of any system labeled a healthcare system is the good health of particular individuals.

A nurse since 1984, Molly Shapiro practices in the emergency room and intensive care unit at a Rochester, MN, hospital. She also manages a healthcare consulting business, teaches graduate courses in healthcare, and writes articles for professional periodicals.



Molly Shapiro has been a nurse since 1984. She holds MBA, MS, and BS degrees from the University of Colorado. She received a Ph.D. in Education from Columbus University in Louisiana. Ms. Shapiro practices ER and ICU nursing at a community hospital and clinic in Rochester, Minnesota. She teaches graduate school at Winona State University, and has written a number of professional articles. She also manages a health care consulting business.

INTRODUCTION: WHY A BILL OF RIGHTS
7
CHAPTER 1:
WHAT PROMPTED THE HMO CONCEPT?
Consumerism
History
Diagnostic Related Groupings or DRGs
Downsizing
A Crowded Playing Field

CHAPTER 2:
WHAT IS YOUR RIGHT TO HEALTH CARE AS A MANAGED CARE PATIENT? Is Health Care a Right or an Individual Reponsibility?
16
Americans Who Have a Right to Health Care
Americans Who Have a Responsibility for Health Care
Universal Access
A Federal Bill of Rights for HMO Patients
A State Bill of Rights for HMO Patients
Which Move Affects Who?

CHAPTER 3:
WHO ARE THE PLAYERS?
22
Rational Behaviour
When Ine Change Affects Many
Integrated Health Care Networks
The Demand for Health Care

CHAPTER 4:
ON WHOSE SIDE ARE PROVIDER GROUPS?
27
Catch-Up Economics
Power Shifts from Physicians to HMOs
Provider-Sponsored HMOs
Physician-Sponsored Hospitals
Conceptual Flaws
Accountability
Added Complexities
Cooperative Care
Advantages of Cooperative Care
Disadvantages

CHAPTER 5:
ON WHOSE SIDE IS THE HOSPITAL SYSTEM? How Are Treatment Centers Thinking?
38
Hospital Networks
Advantages of Hospital Networks
Conceptual Flaws
A Different Mission: Research and Education
Scarce Health Care Resources
Scarce Human Resources
Balancing Yin and Yang

CHAPTER 6:
ON WHOSE SIDE IS YOUR STATE? On Whose Side Is Your Employer?
44
State Innovations
How Much Is Too Much?
Legislators' Interests
Conceptual Flaws
One State's Solution
Conceptual Flaws
For You to Get Rights, You Will Pay More than Your Share
Conclusion

CHAPTER 7:
ON WHOSE SIDE IS YOUR HMO OR OTHER MANAGED CARE ORGANIZATION?
53
Economies of Scale
Managed Competition
Conceptual Flaws
The Challenge
Monitors

CHAPTER 8:
ON WHOSE SIDE IS YOUR CASE MANAGER? And How Is Care Managed?
63
History
Seamless Support
Protocols
Outcomes Mandated by the NCQA
How to Take More Responsibility in Your Care
Holding Treatment Centers Accountable
Disadvantages of Case Managers
Advantages of Case Managers
Conceptual Flaws
Conclusion

CHAPTER 9:
ON WHOSE SIDE IS THE FEDERAL GOVERNMENT? How Is Rationing Used?
72
Federal Goals
Asymmetric Information
Supply and Demand
Rationing
Rationing that Increases Supply
Advantages of Nurses as Primary Care Providers
Disadvantages of Nurses as Primary Care Providers
Increasing Competition in Health Care
Myths and Rebuttals to Diluting Care
What Happens If HMOs Are Forced to Take on High-Risk Patients?

CHAPTER 10:
WHERE DO YOU DRAW THE LINE? What About Standards or Quality Care?
84
Drawing Boundaries in Efficiency and Equity
Drawing Boundaries in Outcome Measures
Challenges in Collecting Outcomes
Acknoledging Adverse Outcomes
Long-Term Effects
Other Long-Term Implications
Drawing Legal Boundaries
Drawing Ethical Boundaries
Drawing Boundaries in Protocols
Conclusion

CHAPTER 11:
HOW IS MANAGED CARE CREATING PROGRESS? Why Is Health Care For Profit?
94
Implications
A Lesson Learned from Canada
Making Organ Donation Self-Sufficient
Making Organ Donation Profitable
Advantages
Disadvantages
Conclusion

CHAPTER 12:
WHAT ARE ALTERNATIVE SOLUTIONS?
101
Implications
A Lesson Learned from Canada
Making Organ Donation Self-Sufficient
Making Organ Donation Profitable
Advantages
Disadvantages
Conclusion

CHAPTER 13:
WHAT HAPPENS AS THINGS CHANGE?
125
Mergers and Acquisitions
Prevention
Consumer Awareness
Disease Management
Assisted Living
Too Much Change Too Fast
Alternative Therapies
Conclusion

CHAPTER 14:
HOW WILL MANAGED CARE HURT PROGRESS?
131
Winners and Losers
Designer Drugs: Statins and Viagra
Who Gets Designer Drugs?
Costs of Designer Drugs in Health Care
Consumer Sovereignty
Conceptual Flaws in CEA
Economic Malpractice

CHAPTER 15:
SO WHAT HAPPENS NEXT? What Does the Future Hold?
142
Information Technology
Convenience in Health Care
Quality of Life Issues
Consumer Demand Accountability
Cost Constraints Spawn New Models
Predictions for the Future of Health Care

CHAPTER 16:
WHAT ARE YOUR RIGHTS?
150
A New Health Care Bill of Rights
The Theory of Regulation
Who Should Ration Your Care?
Coming Full Circle Consumerism

INDEX
156
The original title of this work was What You Need to Know about HMOs and the Patient's Bills of Rights. The title has been changed by Beard Books to facilitate electronic retrieval and/or to reflect the current conditions in the subject are.