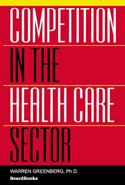 Competition in the Health Care Sector
By Warren Greenberg, Ph.D.


2002/11 - Beard Books
1587981300 - Paperback - Reprint - 422 pp.
US$34.95

Here is the classic that started the ongoing debate over just how much competition and regulation are necessary in the health care industry.

Publisher Comments

This book is an interesting compendium of proceedings from a 1977 conference conducted by the Bureau of Economics of the Federal Trade Commission. Included papers focus on competition in selected sectors, insurance and alternative delivery systems, and competition and regulation. Such an important and comprehensive array of research belongs on the library shelves of all economists, policymakers, health care administrators, professionals in the health care field, and anyone concerned about the nature and future of the health care industry.

No book reviews available

Warren Greenberg, Ph.D. is a professor of health economics and health care sciences and a senior fellow with the Center for Health Policy Research at the George Washington University. He is also a scholar in residence at the Agency for Health Care Research and Quality. Mr. Greenberg's research at AHCRQ focuses on the quality of care in horizontal and vertical consolidations of hospitals within an industrial organization context. He also examines the structure of vertical integration in health care. From 1971 until 1979, Mr. Greenberg was a staff economist with the Federal Trade Commission. He was a lead economist on many of the FTC's activities in the health care industry and was responsible for economic analysis of antitrust litigation. Mr. Greenberg was a visiting associate professor of managerial economics at the University of Maryland and a visiting professor at Ben-Gurion University (Israel). He is the author of numerous articles on industrial organization economics and health care that have been published in the Journal of Law and Economics, Economic Inquiry, Journal of Risk and Insurance, Health Services Research, and other leading journals.

Other Beard Books by Warren Greenberg

| | |
| --- | --- |
| Acknowledgments | vii |
| Summary | ix |
| PART ONE -- Opening Remarks and Introduction | 1 |
| Remarks | 3 |
| Michael Pertschuk | |
| Remarks | 7 |
| Theodore Cooper | |
| Is Medical Care Different? | 11 |
| Mark V. Pauly | |
| Comment | 37 |
| Burton A. Weisbrod | |
| | |
| PART TWO -- Competition in Selected Sectors | 43 |
| Competition Among Physicians | 45 |
| Frank A. Sloan and Roger Feldman | |
| Comment | 103 |
| Donald E. Yett | |
| Comment | 121 |
| Uwe E. Reinhardt | |
| Competition Among Hospitals | 149 |
| David S. Salkever | |
| Comment | 163 |
| John A. Rafferty | |
| Competition Among Health Insurers | 167 |
| H.E. Frech, III and Paul B. Ginsburg | |
| Comment | 189 |
| Howard Berman | |
| Comment | 207 |
| David Robbins | |
| | |
| PART THREE -- Insurance, Competition and Alternative Delivery Systems | 213 |
| The Structure of Health Insurance and the Erosion of Competition in the Medical Marketplace | 215 |
| Joseph P. Newhouse | |
| The Emergence of Physician-Sponsored Health Insurance: A Historical Perspective | 231 |
| Lawrence G. Goldberg and Warren Greenberg | |
| Competition of Alternative Delivery Systems | 255 |
| Alain C. Enthoven | |
| Comment | 279 |
| Stuart O. Schweitzer | |
| | |
| PART FOUR -- Competition and Regulation | 283 |
| Role of Competition in Cost Containment | 285 |
| Clark C. Havighurst | |
| Comment | 325 |
| John Pisarkiewicz, Jr. | |
| Comment | 329 |
| Richard E. Shoemaker | |
| Comment | 333 |
| Jesse L. Steinfeld | |
| Regulation as a Second Best | 339 |
| Stuart H. Altman and Sanford L. Weiner | |
| Comment | 359 |
| Harold A. Cohen | |
| Guide and the Form of Competition in the Health Care Sector | 363 |
| Lee Benham | |
| Comment | 375 |
| Anne R. Somers | |
| Index | 365 |