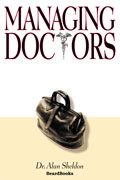 Managing Doctors
By Alan Sheldon


2002/06 - Beard Books
158798122X - Paperback - Reprint - 317 pp.
US$34.95

An eye opener that suggests that the nature of doctoring will continue to feel the impact of the changing dynamics of health care.

Publisher Comments

This provocative book addresses the thorny issue of managing physicians in their relationship to health care delivery organizations. These organizations face a stringent, competitive environment, necessitating difficult strategic choices. Key operational issues such as cost, quality, and productivity must be managed effectively; and a key element to success or failure lies in influencing physician behavior and including them in the decision-making process. For those directly involved in health care delivery systems, as well as those interested in health care and the role of doctors, this book will provide insight into management tactics that may be effective or ineffective in dealing with physicians.

From the back cover blurb:

This book addresses the thorny issue of managing physicians in their relationship to health care delivery organizations. Such organizations and their managers face a stringent competitive environment, and difficult strategic choices need to be made. Key operational issues, such as cost, quality and productivity, must be managed effectively. A key element to success or failure lies in influencing physician behavior. To this topic, the book brings a clear and guiding light. For all directly involved in health care delivery systems, as well as those interested in health care and the role of doctors, this book will be informative reading.

From Henry Berry Nightingale's Healthcare News, April/May 2004:
In this book, first published in 1986, Dr. Sheldon describes the advancement of medical technology, the impact of HMOs, and new patient behaviors that are creating irreversible changes for doctors as well as the broader field of medicine and health care. No longer is the work of doctors centers on a one-to-one relationship with patients. Both doctors and patients are involved in a healthcare system increasingly dependent on diagnosis derived from technology, specialists and research in all fields, government policies and a wealth of publicly-available health information. "The traditional convergence of health organizations and physician interests, dating from the time when the hospital was the doctor's workshop, ceased to exists decades ago as hospitals have sought to cut costs and related to communities."
The title Managing Doctors has a twofold implication. One is that doctors are being managed by large organizations such as HMOs and government agencies more than they have ever been. The other implication is that doctors themselves have much more become managers. They are compelled to manage their time, patient visits, work at hospitals, staffs, and relationships with administrators and organizations in much more complex, multifaceted ways than ever before. Sheldon deals with both implications. Although the profession of doctoring is changing so that it bears little resemblance to the almost exclusively patient-centered, sole practitioner physician of the past, there nonetheless remains a vital role for physicians in this new world of medical care. Where HMOs for instance, fall into trouble, they do so because of a "failure of HMO top management to adequately involve their physicians s at the board or strategic decision-making levels." Thus, Sheldon sees that even though the position of the physician has changed radically, the physician is till a vital, crucial element in the solvency of medical organizations, which depends ultimately on the delivery of effective, cost-competitive health care.
HMOs and other health organizations, as well as doctors must be "competency based, community oriented, community based, multiprofessional, integrated on a problem basis, student centered, and adapted to the development of sciences and of local needs and resources." This is a daunting challenge for health organizations, practicing physicians, and physicians at different stages of their education and apprenticeship. Managing Doctors does not presume to provide an answer to the new influences, circumstances, pressures, or contradictions of health care, all of which are also shifting and complex. What Sheldon does is put his finger on the fundamental factor no matter what the variables are. This factor is the relationship between the physician and the healthcare organization, in most cases an HMO or a hospital. "The final challenge for HMOs is how to involve physicians a health maintenance organizations convert to for-profit status to obtain capita." Sheldon stresses that with HMOs "physicians could be involved more extensively: not only in matters relating directly to them, but also in an HMO's overall policies and broader public face. He identifies specifically the lack of communication between the physicians of an HMO and its marketing people. Oftentimes, the physicians have only the barest knowledge of what benefits are being promoted by an HMOs marketers and how these are being promoted. Thus physicians bear the brunt of ill feelings when they deny patients treatment or procedures they had been led to believe they would receive from membership in the HMO. The marketers often characteristically paint a glowing picture of benefits, while the physicians are left to make decisions based on a unique set of factors concerning a particular patient. It is not usually the case that marketers mean to mislead members, but more often that the marketers have little understanding of healthcare in practice because the HMO has not sought the input of the physicians - who are on the front line so to speak - with regard to marketing.
What can be said about the relationship between HMOs and its physicians can also be said about the relationship between a hospital and the physicians connected with it. "Hospitals have a compelling economic interesting the health and welfare of their physicians." Sheldon then offers some ideas about how hospitals might work with their physicians for a fruitful relation for both sides. Among these ideas are subsidizing office buildings where the physicians have their practices and providing marketing support for the doctors.
Sheldon does not take a position on whether this evolution in healthcare is for the better of for the worse. Instead, he elaborates on an unfailingly realistic view of the basic factors of today's medical field and the changes they are forcing upon doctors. But his aim is not to criticize the present bureaucratic and corporate state of health care. The author's aim is to give an accurate, unflinching portrait of the contemporary medical system so that doctors have a coherent and relevant overview of it, and with this can market their own decisions and adaptations.
Moving among the topics of identification of fundamental considerations, practicalities that have to be faced, inevitable emotions, and group responses such as doctor unions, Sheldon presents a timely manual that is knowledgeable, insightful, and comprehensive. Managing Doctors guides administrators, physicians, medical consultants, and other healthcare professionals on how to shape the irreversible structural and inter-personalchanges of today's medical field so that the needs, interests, purposes, and goals of all sides are satisfied.

Dr. Alan Sheldon had been an independent health management consultant. He had consulted, taught and written extensively on many aspects of health management with a specialty in competitive strategy, strategic planning and physician-management relationships. He was trained as a physician and psychiatrist in England and in public health at Harvard University. He taught at Harvard University for over 20 years in the Schools of Medicine, Business and Public Health. He was formerly director of executive programs in health policy and management at Harvard. Dr. Sheldon is now retired and lives in England.

Other Beard Books by Alan Sheldon

Chapter One. The Changing Health Care Scene
1
Introduction and Argument. The Past Environment -- Organizations. The Past Environment -- The Physician. The Future Health Care Environment

Chapter Two. What Must Be Managed? Strategic and Organizational Imperatives
20
Strategic Imperatives. Organizational Imperatives. The Hospital and the Physician. The HMO and the Doctor.

Chapter Three. What Can Be Managed? The Changing Relationship between Physician, Patient, and Organization
34
Physician and Organization. Doctor and Patient. Why Doctors Enter Medicine: The Experience and Its Shaping. Traditional Physician Values. Self-Control or Other Correction? Plupractice, Malfeasance, and Error.

Chapter Four. Managing Voice, Governance, and Structure: Physician Unions
67
The Issue of Physician Involvement. Governance and the Board. Organizational Structure. Physician Voice. Informing and Involving. The Influential Doctor. Toward True Partnership. Physician Unions: Background and an Example. Physician Unions: Arguments for and against. When Can the Doctor Organize?

Chapter Five. Managing Loyalty and Devotion
106
Loyalty and Devotion -- The Basic Issues: A Case Study. The 10-Hospital Study -- What Doctors Say. What CEOs Do. Value Chain Analysis.

Chapter Six. Management's Role in Medical Matters: Managing Quality, Cost and Recruitment
131
Quality and Cost as Competitive Issue. Managing Quality. Managing Cost. Changing Physician Behavior -- The Problem. Changing Physician Behavior -- Approaches. Compensation and Financial Incentives as a Tool for Change. Goals and Processes for Physician Behavior-Change Programs: Summary of M.D. Behavior Change Programs. Recruitment.

Chapter Seven. Managing Change and Conflict: Monitoring Physician Response
175
Managing Change and Conflict. Practice Pattern Impact Assessment: A Case Study. Physician-Management Relations Monitoring (PMRM).

Chapter Eight. Sorts and Settings
202
Doctors Are Not Alike. Settings and Their Managerial Characteristics. Organizational Preparation.

Chapter Nine. Management Style and Management Skills: Lay and Physician Managers
224
Management Style and Skills for the Lay Manager. The Physician Manager.

Chapter Ten. The Future of Health Care: The End of Doctoring?
243
References
260
Index
263