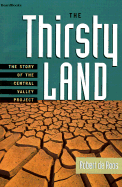 The Thirsty Land: The Story of the Central Valley Project
By Robert W. de Roos


2000/08 - Beard Books
158798024X - Paperback - Reprint - 279 pp.
US $34.95

Those interested in how water would determine the wealth of California will find this intriguing book a saga of politics and engineering, agriculture and economics, power and propaganda.

Publisher Comments

The story of the Central Valley Project in the early twentieth century, a long-range public reclamation project to bring precious water to the San Joaquin Valley in California. The aim of the project was to provide dams, reservoirs, hydroelectric plants, and canals to the Valley.

From BookNews.Com
The story of the publicly financed Central Valley Project in California which built dams, reservoirs, hydroelectric plants, and canals. De Roos (San Francisco Chronicle) details the politics, economics, and social struggles played out by the actors involved, including Pacific Gas & Electric, the State of California, and United States Department of the Interior, and Congress. Most of the material consists of government reports, published newspaper accounts, and other documents detailing the scandals and controversies over the funding of the dam and the allocation of scarce water and electric resources. Annotation c. Book News, Inc., Portland, OR (booknews.com)

No information about the author

| | | |
| --- | --- | --- |
| I. | Problems in Paradise | 3 |
| II. | Project on Paper | 15 |
| III. | How the Cow Helped | 27 |
| IV. | Yes, Said the State | 36 |
| V. | The Army and the Bureau | 46 |
| VI. | We Ain't Mad at Nobody | 57 |
| VII. | The 160-Acre Limitation | 73 |
| VIII. | The Battle of the Contract | 91 |
| IX. | Power Politics | 104 |
| X. | Power Politics Compounded | 126 |
| XI. | Who Pays for What? | 141 |
| XII. | Throw the Rascals Out | 159 |
| XIII. | Sportsmen, Arise! | 175 |
| XIV. | A New Set of Dreams | 188 |
| XV. | A Busy Year and a Dry One | 206 |
| XVI. | Picture Book | 219 |
| XVII. | Epilogue | 251 |
| | Index | 257 |