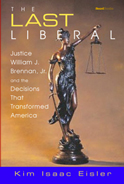 The Last Liberal: Justice William J. Brennan, Jr. and the Decisions That Transformed America
By Kim Isaac Eisler


2005/12 - Beard Books
1587982714 - Paperback - Reprint - 316 pp.
US$34.95

An illuminating portrayal of Justice William J. Brennan, Jr. and his role in effecting monumental change in legal, political and social policy in the United States.

Publisher Comments

This book is the fascinating and illuminating portrayal of Justice William J. Brennan, Jr. who emerged from a nondescript past to become the seminal justice of our time. As a Justice of the Supreme Court he was not the greatest academic legal thinker or writer but he was instrumental in effectuating monumental changes in legal, political and social policy in the United States. Throughout his judicial career as well as in his personal life, Brennanís credo was to provide human dignity to every man, woman, and child throughout the world. This insightful book, brought current by the authorís added Note to this Reprint Edition, will be enjoyed by lawyers, constitutional scholars, and all people who believe in American values.

Original Reviews:
From Kirkus Reviews
In this brisk, agreeable account, Washingtonian Magazine national editor Eisler (Shark Tank, 1990) pays tribute to the great liberal jurist, recapitulating the judicial achievements of Brennan's long and influential Supreme Court career. A progressive who interpreted the Bill of Rights expansively in favor of individual rights, Brennan was the ``lapel-pulling playmaker'' whose gregarious personality and taste for compromise made possible some of the Warren and Burger Courts' most famous activist decisions. But before his 1952 appointment to the New Jersey Supreme Court, there was little to suggest his liberal proclivities: A solid but not outstanding product of the University of Pennsylvania and Harvard Law, Brennan had been the first Catholic partner at one of New Jersey's staid corporate law firms and had devoted his professional energies to promoting the interests of his corporate clients. Eisler sees Brennan's 1953 dissenting opinion in New Jersey v. Tune, in which he argued that a criminal defendant should have the right to see his written confession, as an important harbinger of his future philosophy. Nonetheless, Brennan's liberalism was still so obscure that when President Eisenhower appointed him to the US Supreme Court in 1956, the Chief Executive assumed that Brennan wouldn't ``entertain technical arguments about constitutionality.'' Eisler speculates that Brennan's liberalism was rooted in his Newark boyhood as the son of a poor Irish laborer who became a labor leader and political reformer. The author quickly reviews several of Brennan's great cases, such as Baker v. Carr (which established the ``one person- one vote'' rule for election district-drawing), and various privacy and obscenity cases (Brennan's most influential decision, New York Times v. Sullivan, which revolutionized the law of defamation, receives only a brief sketch). The author also illuminates Brennan's close relationships with his family and other justices. Although Eisler's analyses of specific cases can be disappointingly superficial, he paints a warm, vivid portrait of Brennan the man and admirably sums up the justice's humane and progressive jurisprudence. -- Copyright ©1993, Kirkus Associates, LP. All rights reserved.
From Amazon.Com:
An insightful look into the man who transformed our nation., July 4, 1999 Reviewer: Rebecca Musarra
Although few people knew his name, Supreme Court Justice William Brennan became a force of history. Applying his belief that the Constitution and Bill of Rights was written for all Americans, Brennan shaped the nation by attaining majorities is such cases as Roe v. Wade and Texas v. Johnson (flag burning). His legacy is one of justice and equality, of cooperation and liberty, of criminal rights and human rights, of compassion, moral rectitude and courage. If you do not know this man, you do not know the greatest force in constitutional law this American century has ever seen. Kim Eisler, using various sources, opened a window through which every American can see the Court, and one of its most important jurists, in language we can all understand. The best book on the Supreme Court (and a supreme Justice) I have ever read.
From The Dallas Morning News, November 28, 1993
This is more than a thoroughly persuasive and well-written biography. It is also a monumental account of the high court's inner workings and major rulings since Brown.
From The New York Times, November 19, 1993
...Mr. Eisler goes behind the scenes, revealing how Justice Brennan was a gentle persuader and consistent battler for the Constitution as a living document.
From Robert F. Drinan:
This exciting story of the career of Justice Brennan is not only readable, it is gripping.


Kim Isaac Eisler is the National Editor of Washingtonian Magazine. Previously, he worked as Senior Editor of the Legal Times and as a staff writer at American Lawyer magazine in New York. Prior to becoming a specialist in law firm issues, Eisler was a staff writer and bureau chief for the Tampa Tribune and the Delta Democrat-Times. He lives in Bethesda, Maryland, with his wife, Judy Sarasohn, deputy national editor of the Washington Post, and their daughter, Sara Sophie. He is also the author of another Beard Books title, Shark Tank: Greed, Politics, and the Collapse of Finley Kumble, One of America's Largest Law Firms.

Introduction: The Justice at the End of the Bench
9
1.
Newark
17
2.
A Young Lawyer on Broad Street
32
3.
Colonel Brennan and the War
42
4.
Returning to Private Practice
51
5.
His Toughest Choice
58
6.
A New Jersey Judge
68
7.
An Unlikely Appointment
86
8.
Confirmation After the Fact
97
9.
A Rocky Beginning
120
10.
Brennan Defines Pornography
139
11.
Speeding Desegregation
147
12.
The Frankfurter Feud
158
13.
Baker v. Carr
168
14.
Changing the Face of the Law
178
15.
Griswold v. Connecticut
192
16.
The Justices Under Attack
198
17.
Roe v. Wade
218
18.
Fighting the Death Penalty
234
19.
The Nixon Case
247
20.
Transition
256
21.
Renaissance and Retirement
266
Source Notes and Bibliography
283
Acknowledgments
289
Index
291