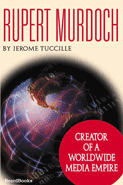 Rupert Murdoch: Creator of a Worldwide Media Empire
By Jerome Tuccille


2003/12 - Beard Books
1587982242 - Paperback - Reprint - 304 pp.
US$34.95

An important and informative book on mass media and its principal mogul.

Publisher Comments

This is a multi-faceted biography of the most innovative figure of the information age, Rupert Murdoch, who had established the most far-reaching communications empire in existence when this book was first published in 1989. Through interviews with numerous sources both inside and outside the Murdoch organization, including a rare interview with Murdoch himself, Jerome Tuccille reveals little-known facts about the man behind the public figure. What emerges from Rupert Murdoch is a complete and balanced picture of the man and his achievements - at once a fascinating three-dimensional portrait of the individual and a detailed account of his amazing financial triumphs.

From the back cover blurb:

... He explores the many aspects of Murdoch's power base, including tax and accounting techniques that allowed him to borrow more than his rivals without diluting the value of his holdings; his deep-seated affinity for taking major risks; his expansion into the U.S.; his confrontation with Senator Edward Kennedy over legislation prohibiting TV station and newspaper ownership in the same market; his role as philanthropist, family man, and quietly conservative political voice.

From Turnarounds and Workouts:
With his recent purchase of the Dow Jones Company, parent company of the Wall Street Journal, Rupert Murdoch added another piece to his global communications empire and again showed why he is the preeminent media mogul in the world.

While many books have been written about Murdoch, Rupert Murdoch: Creator of a Worldwide Empire, is among the most enlightening because it was written in 1989 and chronicles Murdoch's activities during the 1980s, a critical period of time when he built his empire in the United States. It was a time when Murdoch "bought and sold properties with dizzying speed," notes the author. Two of the most notable acquisitions were his purchase of Twentieth Century Fox from Marvin Davis and the purchase of Triangle Publications from Walter Annenberg, but many other acquisitions are recounted in this fascinating book. It was also a time when Murdoch fiercely battled regulators, legislators, labor unions, competitors, and even public opinion. These battles are recounted also.

In writing Rupert Murdoch: Creator of a Worldwide Empire, the author had access to a multitude of sources inside and outside the Murdoch organization, including Murdoch himself. Tucille demonstrates Murdoch's mastery at taking advantage of tax and financing techniques to borrow more than his rivals without diluting the value of his holdings. Murdoch's business acumen allowed him to continually outbid and outmaneuver the competition to compile a media conglomerate that, in the United States, includes The Boston Herald and The New York Post newspapers; New York, TV Guide, and Seventeen magazines; the HarperCollins publishing house, 20th Century Fox Film Corporation; the Fox television network, and numerous Fox television stations around the country. Murdoch's international assets include the Times of London newspaper and dozens of newspapers and magazines in his native Australia.

Murdoch has often been compared to William Randolph Hearst, but Tucille counters that Murdoch is his own man and, in point of fact, has achieved a larger measure of success. At the time of this book's writing, Murdoch controlled a media empire of $12 billion. Hearst's holdings, adjusted to 1989 dollars, would be approximately $700 million. With the acquisition of The Wall Street Journal, Murdoch's combined news, entertainment and Internet enterprises (he also recently added the MySpace web site to his holdings) are now valued at $68 billion.

Tucille dispels many of the myths about the man. The author finds Murdoch to be in the mold of the old publishing barons, who are motivated to construct an empire through savvy acquisitions and then by building readership and viewership. Murdoch does not acquire assets with the intent of breaking them down, disposing of them, and quickly turning a profit. He is a "builder" entrepreneur who makes his assets stronger and more valuable. Murdoch is also a risk-taker or, as some have characterized him, as a gambler extraordinaire who, through a combination of luck and good timing, has been able to build an empire although seemingly overpaying for assets. The author notes, however, that "…no one's luck lasts that long…Murdoch – like most successful people – makes his own luck through hard work and effort, by hiring the right people to do the job and replacing them quickly when they fail."

From Henry Berry, Turnarounds and Workouts, September 15, 2004:
Rupert Murdoch is compared to the movie character Citizen Kane, who was modeled on the press baron William Randolph Hearst. But Murdoch surpasses even this legendary figure in the breadth and value of the media empire he has created. In 1989, Murdoch's empire, comprising not only newspapers in the U. S., England, and Australia, but also book publishers, magazines, and network and cable TV stations, was valued at about $12 billion. In this same year, Hearst's holdings adjusted for inflation would have been valued at $660 million, a fraction of Murdoch's. An airline, hotel reservation service, and a sheep farm in his native Australia are also a part of the Murdoch empire. Yet for all of Murdoch's outsized success, influence, and path-breaking ventures, he has not attained the legendary mystique of Hearst. Whereas Hearst was active in the relatively simple America of the late 19th and early twentieth centuries where his larger-than-life personality stood out in the media field, Murdoch is active in a global marketplace where many powerful and newsworthy individuals are covered daily in diverse media outlets. Murdoch has achieved more power in the media field than his predecessors Hearst or Pulitzer, but does not stand out as much as they did because his empire, with its reach more extensive and possessions more diverse, is more diffuse. Besides, as Murdoch notes, Hearst was "a spoiled boy, self-indulgent. I'm more Presbyterian, Calvinistic, more Scottish."
Murdoch is a fascinating character in his own right: a native of Australia who worked his way to become the most powerful individual in a media that plays a central role in all of modern society. In recent years he has taken on the powerful Senator Ted Kennedy for his sponsorship of legislation that would limit Murdoch's, and others', media holdings in certain major markets. And Murdoch's career can be profitably studied for lessons on business vision and strategy, corporate decision-making, effective entry into new national markets, and interconnected operations in the global economy. As the author Tuccille recognizes, Murdoch's interests and activities reflect important changes in the media field in the last decades of the 1900s, when the media came to dominate all areas of American life and play a highly-visible role in international politics, events, economics, and finance. "The story of Rupert Murdoch is more than the saga of a single individual. He stands at the center of a communications revolution that is reshaping the way we receive our information.
Tuccille divides Murdoch's unique story, which also mirrors the growth of the modern media, into three main parts: Press Baron, Star Wars, and Media Lord. The part "Star Wars" covers the period from the watershed year of 1983 marking the "end of Murdoch as mere newspaper magnate in the Hearst...tradition" to the year 1987, when he had "established himself as the single most powerful media lord on earth." Murdoch gained this position in the short span of four years by investing heavily in the electronic revolution and various businesses that were a part of it or which could be modified to become a part of it. It was during these years that Murdoch purchased the Chicago Sun-Times, Warner Communications, the New York Post, and the London Sun, among other newspapers, as well as satellite TV stations. By competing fiercely to acquire long-standing, wide-recognized, and influential newspapers in major urban markets outside of his native Australia, Murdoch was revealing his extraordinary ambitions and his vision in the fast-evolving field of modern media. But to reach this pinnacle, he had put his News Corporation Ltd. deeply in debt - over $4 billion. The story of how Murdoch overcame this considerable handicap is a part of Tuccille's last section, "Media Lord".
A popular biography about a colorful visionary businessman who has undoubtedly left his mark on the media field and the phenomenon of globalization, Tuccille's "Rupert Murdoch" is also a picture of the growth of this field over the past few decades.
Jerome Tuccille is vice president of T. Rowe Price Investment Services who as an author, has published biographies, novels, and financial books.
From BookNews:
In his biography of media baron Murdoch, Tuccille (vice president, T. Rowe Price Investment Services) concentrates on Murdoch's business activities, chronicling how he built a newspaper and broadcast empire and a vast fortune for himself. The biography covers his entire life, but concentrates on the later years before the first 1989 edition of the text, here reprinted in paperbound format. Annotation ©2004 Book News, Inc., Portland, OR


Jerome Tuccille is Vice President of T. Rowe Price Investment Services, and he has worked in the investment area as a broker and supervisory analyst since 1975. He is the author of more than 20 books including a recent biography of Alan Greenspan. His works include four novels and many financial books. From 1971 to 1973, the author taught at the New School for Social Research in New York City, and in 1974 he was the Libertarian candidate for Governor of New York. Tuccille and his wife Marie have two children and one grandson. They reside in Maryland. Photo from the back cover.

Other Beard Books by Jerome Tuccille

| | |
| --- | --- |
| Acknowledgments | ix |
| Introduction | xiii |
| Part One -- Press Baron | 1 |
| Part Two -- Star Wars | 107 |
| Part Three -- Media Lord | 185 |
| Postscript | 265 |
| Appendix | 271 |
| Index | 281 |