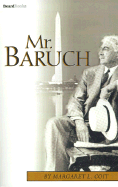 Mr. Baruch
By Margaret L. Coit


2000/12 - Beard Books
1587980215 - Paperback - Reprint - 728 pp.
US$34.95

Bernard Baruch gave this Pulitzer Prize author free access to the vast collection of papers covering his career, making this book his definitive biography.

Publisher Comments

Mr. Baruch is the story of Bernard M. Baruch, one of the most famous American financiers of the first half of the 20th century. Although he never held elective office, he was an advisor to six presidents. This carefully researched biography covers all the important aspects of his career.

No book review available

Margaret Louise Coit graduated from the Woman's College of the University of North Carolina in 1941, she worked as a journalist in Massachusetts and wrote a biography of John C. Calhoun which won the 1952 Pulitzer Prize. Coit also won the award of the National Council of Women in the United States for her second book Mr. Baruch.

| | | |
| --- | --- | --- |
| | Preface | vi |
| | Acknowledgments | vii |
| | Publisher's Note | x |
| 1. | When the Redshirts Rode | 1 |
| 2. | Growing Up with New York | 33 |
| 3. | High Stakes and Big Plungers | 62 |
| 4. | The Golden Touch | 84 |
| 5. | Easy Money | 108 |
| 6. | School for Statecraft | 131 |
| 7. | "General Eye" | 164 |
| 8. | "Dr. Facts" | 195 |
| 9. | World to Win | 223 |
| 10. | Rehearsal for Disaster | 250 |
| 11. | Lost Horizon | 277 |
| 12. | The Baron of Hobcaw | 313 |
| 13. | Politics as Usual | 339 |
| 14. | The Age of the Great Depression | 376 |
| 15. | Elder Statesman | 412 |
| 16. | Too Luminous a Man | 435 |
| 17. | Watch on the Rhine | 463 |
| 18. | Partnership with Power | 490 |
| 19. | War from a Park Bench | 521 |
| 20. | From Cosmos to Chaos | 552 |
| 21. | Don't Let Them Take It Away | 588 |
| 22. | A Book of Reference | 609 |
| 23. | The Age of Crisis | 630 |
| 24. | South Carolina was Home | 640 |
| 25. | Mr. Baruch | 668 |
| | Appendix | 697 |
| | Bibliography | |
| | Index | |