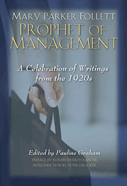 Mary Parker Follett, Prophet of Management: A Celebration of Writings from the 1920s
By Pauline Graham, Editor


2003/12 - Beard Books
1587982137 - Paperback - Reprint - 328 pp.
US$34.95

Written between 1925 and 1933, these excerpts provide a fascinating perspective on critical management topics that have continued relevance for managers today.

Publisher Comments

Although Mary Parker Follett died in 1933, her philosophy of business organization and management is echoed in companies today where quality control, employee empowerment, and more horizontal organizational structures have been adopted with impressive results. Ahead of her time in the 1920s and 1930s, Follett was a political scientist, social work pioneer, speaker, and advisor to leaders concerned with labor-management relations.

In this provocative tome, Editor Pauline Graham presents extracts of Follett's writings culled from all her works, including her lectures on such subjects as conflict, power, authority, leadership, control, the role of the individual in the group, and the place of business in society.

From Library Journal:
This book aims to return Follett to her rightful place in the pantheon of classic business writers. A preface by Rosabeth Moss Kanter and an introduction by Peter Drucker attest to the fact that she merits such attention. The book contains extracts of Follett's writings on specific subjects: conflict, authority, power, and the place of the individual in society and the group. Each extract is followed by commentaries from today's foremost management scholars that underscore the contemporary significance of her ideas. Follett espoused the theory that business was a social institution and advocated an almost complete change of vocabulary in the business world, eliminating terms like grievance and complaints since such words led to automatic negative reactions. Since Follett wrote about the human side of management, there have been several "discoveries" that promote her essential philosophy: the participative management movement of the Fifties and Sixties, the quality-of-work movement of the Seventies, and now the network movement -- each of these moving organizations toward a new, more effective, and humane form of management. This extraordinary book belongs in all academic management libraries and any others aspiring to have comprehensive management collections. Mary Chatfield, Angelo State Univ., San Angelo, Tex. Copyright 1995 Reed Business Information, Inc.
From Booklist:
What's old becomes new again, a remarkable occurrence in the relatively young field of management. To witness the recycling of ideas from such neglected visionaries as Bostonian Mary Parker Follett, one has only to look at the resurgency of total quality management--and its real roots. Editor Graham selects 11 of Follett's lecture essays delivered or published between 1925 and 1933 that prove without a doubt that the concepts of "empowerment" and "horizontal management" began with her. Contemporary gurus of business from Peter Drucker to Rosabeth Moss Kantor add flourishes and today's meanings to Follett's philosophies. Yet the experts admit that this turn-of-the-century social worker in her insistence on mutual problem solving and business' debts to society, among other ideas, was way ahead of us all. Barbara Jacobs
From Book News, Inc.:
Presents selections from Follett's writings on business organization and management, some culled from her lectures on topics such as authority, leadership, the role of the individual in the group, and the place of business in society. Contemporary management experts from America and Japan comment on Follett's writings. Annotation copyright Book News, Inc. Portland, Or.
From Ingram:
Follett's essays on management, originally delivered as lectures in the late 1920s, have long been considered well ahead of their time, promoting leadership and business concepts that are today, ironically, called "new paradigms." In this collection are Follett's original essays with present-day commentaries by a stellar array of modern business thinkers, including Rosabeth Moss Kanter, Peter Drucker, Warren Bennis, Niatin Nohria, and Henry Mintzberg, that highlight the validity and relevance of her work to contemporary managers.
From Book Info:
Essays on management from the 1920s promoting concepts like empowerment, teams, and networked organizations. Mary Parker Follett (1868-1933) was a pioneer in the field of social work before focusing on business organization and management. Paper. DLC: Management.
From Amazon.Com:
In spite of a well-crafted selection of essays from Mary Parker Follett's lectures and writings, it is unfortunate that the subtitle of this text may be misleading. The significance of this publication is not that Follett wrote in the 1920's -- or even that she was a prophet of what has been discovered in management to date. The significance of this text is that it may help the reflective practitioner and theoretician create the future of management on a more sound footing than we have accomplished throughout most of this century. As Peter F. Drucker, Warren Bennis and others have pointed out, Follett developed her approach to management on a fundamentally different assumptive base than did her contemporaries. What remains to be articulated is the fundamental character of that contrast and their implications. These questions will not be answered in the commentaries, but there is an implicit invitation to consider the issues. One may find that Follett's assumptions anticipate our own time in its complexity, turbulence, and uncertainty, more adequately than most writers or practitioners who are currently grappling with these sorts of issues. If you are a reflective practitioner or a theoretician, and wish a leg-up on the future, this is a good place to start

Based in London, Pauline Graham lectures, writes, and consults on marketing and management. She has authored three books on Mary Parker Follett.

Editor's Note
Pauline Graham
vii
Preface
Rosabeth Moss Kanter
xiii
Introduction: Mary Parker Follet: Prophet of Management
Peter F. Drucker
1
Mary Parker Follett (1868-1933): A Pioneering Life
Pauline Graham
11

PART ONE: THE PSYCHOLOGICAL FOUNDATIONS OF BUSINESS ORGANIZATION

1.
Relating: The Circular Response
35
2.
Constructive Conflict
67
Commentary
Follett: Constructive Conflict
John Child
87
3.
Power
97
4.
The Giving of Orders
121
5.
The Basis of Authority
141
Commentary
Mary Parker Follett's View on Power, the Giving of Orders, and Authority: An Alternative to Hierarchy or a Utopian Ideology?
Nitin Nohria
154
6.
The Essentials of Leadership
163
Commentary
Thoughts on "The Essentials of Leadership"
Warren Dennis
177
7.
Co-ordination
183
Commentary
Some Fresh Air for Management?
Henry Mintzberg
199
Commentary
Reflections on Design and the Third Way
Angela Dumas
205
8.
The Process of Control
213

PART TWO: THE INDIVIDUAL, THE GROUP AND SOCIETY

9.
The Individual in the Group
229
Commentary
The Individual in the Group
Tokihiko enomoto
240
10.
The Individual in Society
247
PART THREE: BUSINESS -- THE WAY AHEAD
11.
Business in Society
267
Commentary
Most Quoted -- Least Heeded: The Five Senses of Follett
Sir Peter Parker
282
Epilogue
Paul R. Lawrence
291
Bibliography of Mary Parker Follett's Writings
297
Index
299
About the Contributors
307