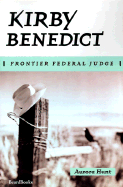 Kirby Benedict: Frontier Federal Judge
By Aurora Hunt


2000/04 - Beard Books
1893122808 - Paperback - Reprint - 268 pp.
US$34.95

Legal and judicial development in the American Southwest through the decisions and interpretations of Kirby Benedict, a lawyer and Federal judge during the days when the United states took possession of New Mexico.

Publisher Comments

This historical account presents a fascinating story of legal and judicial development in the Southwest between 1853 and 1874, with special emphasis on Indian affairs, slavery, social and political happenings. The panoply unfolds through the peregrinations of Judge Kirby Benedict, a Federal judge and one of our most famous frontier lawyers, as he travels between county courthouses.

No book review available

Aurora Hunt also wrote Western Frontier Dragoon, Major General James Henry Carleton, 1814-1873 in 1958 and The Army of the Pacific; Its operations in California, Texas, Arizona, New Mexico, Utah, Nevada, Oregon, Washington, plains region, Mexico, etc. 1860-1866 in 1951.

| | |
| --- | --- |
| Preface | 11 |
| The Young Barrister | 15 |
| A Fledgling Politician | 25 |
| Circuit Riders in Illinois | 33 |
| A Federal Judge in New Mexico | 49 |
| Chief Justice | 69 |
| Due Process of Law in the Indian Pueblos | 89 |
| Peonage and Slavery | 107 |
| The Supreme Court Decisions of Judge Benedict | 121 |
| Revision and Codification of New Mexico Laws | 129 |
| Washington Correspondence | 133 |
| Civic and Social Affairs | 173 |
| Loss of Office and Prestige | 183 |
| New Ventures Follow Disbarment | 197 |
| The Judge Becomes a Journalist | 207 |
| Before the Tribunals of Man and God | 221 |
| Appendix: Benedict's Supreme Court Decisions | 235 |
| Bibliography | 247 |
| Index | 259 |