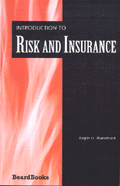 Introduction to Risk and Insurance
By Ralph Blanchard


2001/06 - Beard Books
1587981009 - Paperback - Reprint - 220 pp.
US$34.95

An informative discussion of the major aspects and elements of the subject of insurance.

Publisher Comments

This book contains a collection of thirty-five major articles and addresses by D. Blanchard, a renowned specialist in the systematic study of insurance. The collection presents clear and precise interpretations on a broad range of topics, such as risk-bearing, ratios, public relations, the basis of premium rates, insurance terminology, and government and insurance. As such, this volume is especially interesting and useful for people in the insurance field, teachers and students in insurance, as well as others who are affected by risk elements in their businesses.



No book reviews available

Ralph H. Blanchard (1891-1973), graduated from Dartmouth College in 1911 and received his Doctorate at the University of Pennsylvania where he taught until 1917. He was president of the Casualty Actuarial Society in 1941 and 1942. He also served as president of the American Association of University Teachers of Insurance, as vice president and manager of the American Managers Association, and as director of the Insurance Society of New York. He was the author of numerous publications, and instituted and edited the McGraw-Hill Insurance Series, of which twenty volumes appeared before his retirement. Dr. Blanchard was an advisor to the insurance industry and was also a consultant to the Department of Defense, Department of the Treasury, and the Social Security Board. In 1958 he was elected to the Insurance Hall of Fame established by the Griffith Foundation and Ohio State University.

| | | |
| --- | --- | --- |
| | Preface | |
| 1. | Risk and Insurance | 1 |
| 2. | The Insurance Mechanism | 19 |
| 3. | Insurance in the Depression | 27 |
| 4. | Fire Hazards | 34 |
| 5. | Prevention | 40 |
| 6. | Ratios | 45 |
| 7. | Research | 51 |
| 8. | Changing Times and the Insurance Agent | 55 |
| 9. | Public Relations | 61 |
| 10. | Constructive Competition | 64 |
| 11. | Automobile Insurance and the Traffic Problem | 69 |
| 12. | Insularity in Insurance | 75 |
| 13. | The Casualty Actuary and Social Insurance | 79 |
| 14. | The Lawyer and Insurance | 84 |
| 15. | Losses, Expenses and Profit | 92 |
| 16. | Health Insurance and the Insured | 98 |
| 17. | Education | 104 |
| 18. | Risk as a Special Subject of Study | 110 |
| 19. | The Education of an Adjuster | 116 |
| 20. | College and Company Education | 119 |
| 21. | Reserves | 123 |
| 22. | Unearned-Premium Reserves | 128 |
| 23. | Investments of Insurers | 133 |
| 24. | Coinsurance | 138 |
| 25. | Fire Loss Adjustment | 144 |
| 26. | Appointment of Loss in Fire Insurance | 151 |
| 27. | The Basis of Premium Rates | 159 |
| 28. | Purchasing Insurance | 164 |
| 29 | Deductible Average | 169 |
| 30. | Description of Property in the Fire Insurance Contract | 172 |
| 31. | The Insurance Buyer Looks Ahead, Personal Insurance | 177 |
| 32. | Insurance and Government | 183 |
| 33. | Revision of the New York Standard Fire Insurance Policy | 190 |
| 34. | A Proposal for State Regulation of Rates | 196 |
| 35. | Insurance Terminology | 199 |
| | Index | |