Henry Ford: The Wayward Capitalist
By Carol Gelderman


2006/09 - Beard Books
1587982897 - Paperback - Reprint - 478 pp.
US$34.95

The objective and well researched biography of the brilliant and controversial industrialist, Henry Ford.

Publisher Comments

This engrossing book reveals the full story of Henry Ford, a man who rarely revealed his true feelings, and yet who did more than any other to change the landscape, character, and experience of twentieth-century America. An objective biography that has been thoroughly researched, the author presents the accomplishments and thinking of this brilliant and controversial industrialist. Besides persons intrigued by the man himself, all those interested in business history will find much to digest in this book.

From Publishers Weekly:
A balanced and highly readable account of the complex automotive genius.
From The New Yorker:
Thoroughly researched...psychologically convincing.
From Fort Worth Star-Telegram
To listen to Carol Gelderman telling of Ford's adventures and battles is to hear a master storyteller.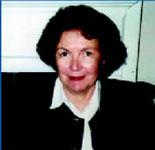 Carol Gelderman received M.A.and Ph.D.degrees from Northwestern University. Originally hired by the University of New Orleans to teach modern drama, she is today Distinguished Professor of English. Dr.Gelderman has authored eight books, and has written dozens of articles on various topics.

No table of contents available.