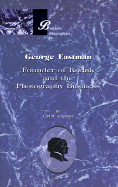 George Eastman: Founder of Kodak and the Photography Business
By Carl W. Ackerman


2000/12 - Beard Books
1893122999 - Paperback - Reprint - 540 pp.
US$34.95

A fascinating view of a successful and famous inventor, innovator, financier, and entrepreneur.

Publisher Comments

This detailed biography of George Eastman (1854-1932) provides a fascinating view of one of America's greatest inventors, financiers, and entrepreneurs. Drawing on Eastman's notes on his various inventions as well as on 100,000 letters to and from Eastman's friends, family, competitors, and employees, Carl W. Ackerman has drawn a meticulous account of Eastman's myriad interests and hands-on management style. This important book highlights a great American innovator who transformed the art of photography and, along with Thomas Edison, ushered in the age of cinematography.

Review by Gail Owens Hoelscher
From Turnarounds and Workouts, July 15, 2001
George Eastman was a Bill Gates of his time. This biography of Eastman (1854-1932) provides a fascinating look at the inventions, management style, interests, causes and philanthropies of one of America's finest scientist-entrepreneurs. Eastman's inventions transformed photography into a relatively inexpensive and enormously popular leisure activity. His company, Eastman Kodak, was one the first US firms to mass produce a standardized product. Along with Thomas Edison, he ushered in the age of cinematography.
Eastman was born in Waterville, New York. At the age of 23, while working as a bank clerk, Eastman bought a camera and set in motion a revolution in photography. At the time, photographers themselves mixed chemicals to make light-sensitive emulsions and covered glass plates (called "wet plates") with the emulsions, taking photographs before the emulsions dried. It was an awkward, messy, and time-sensitive undertaking. Eastman developed the first such film, cut in narrow strips and wound on a roller device patented in 1885. In 1888, Eastman patented the hand-held Kodak Camera, designed specifically for roll fill and initially priced at $25. (He made up the word "Kodak" using the first letter of his mother's maiden name, Kilbourne)
In 1889, Eastman began working with Thomas Edison, inventor of the motion picture camera. Edison's increasingly sophisticated models required a stronger, more flexible transparent film, which Eastman was able to deliver. He founded Eastman Kodak Co., in 1892 and began mass-producing a range of photographic equipment.
Eastman was an astute businessman. He dealt shrewdly with competitors and sometimes fell out with former collaborators. Indeed, some of them filed and won patent infringement lawsuits against him. He was tireless in his inventing and entrepreneurial endeavors. In the early days, he often slept in a hammock at the factory and cooked his own food there. His mother regularly showed up and insisted that eh go home for a good meal and full night's sleep! Eastman demanded much of his employees, but no more than he demanded of himself. "An organization," he said, "cannot be sound unless its spirit is. That is the lesson the man on top must learn. He must be a man of vision and progress who can understand that one can muddle along on a basis in which the human factor takes no part, but eventually there comes a fall."
This book draws on the contents of 100,000 letters to and from Eastman's friends, family, investors, competitors, employees and fellow inventors, along with Eastman's records and notes on his various inventions. The result is a meticulously detailed account of Eastman's myriad interests and hands-on management style, as well as the evolution of photography and a major 20th century corporation.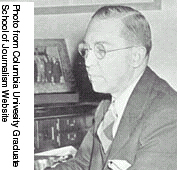 Carl W. Ackerman, (1890-1970), was a charter member of the Earlham Press Club, and served as a war correspondent during World War I. He was the Dean of the Columbia Graduate School of Journalism

| | | |
| --- | --- | --- |
| | Introduction | ix |
| I. | Ancestry and Youth | 1 |
| II. | The Epic Story of Film | 33 |
| III. | The Kodak | 71 |
| IV. | International Expansion | 110 |
| V. | Lord Kelvin's Observation | 147 |
| VI. | The Motion Picture Pays Tribute to Edison | 193 |
| VII. | An Avalanche of Attacks | 228 |
| VIII. | The World War | 282 |
| IX. | The Massachusetts Institute of Technology | 324 |
| X. | The Transition of Executive Responsibilities | 353 |
| XI. | New Moulds for Old Needs | 382 |
| XII. | The University of Rochester | 415 |
| XIII. | Where East Meets West | 458 |
| XIV. | "Institutions Alone can Create A Nation" | 465 |
| | Index | 497 |