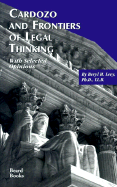 Cardozo and Frontiers of Legal Thinking: With Selected Opinions
By Beryl H. Levy


2000/03 - Beard Books
1893122689 - Paperback - Reprint - 333 pp.
US$34.95

This historical work portrays Justice Cardozo, a lawyer and philosopher, as concerned with harmonizing legal rules with social values and the demands of stability with changes in the law.

Publisher Comments

In this scholarly but eminently readable tome, Beryl H. Levy focuses on the law that is made by judges in the higher courts when an appeal is taken from the trial court.He specifically addresses closely contested cases where convincing briefs have been presented by both sides and where the judges on the appellate court are likely to be divided.The point of departure is the thinking of Justice Benjamin Cardozo, who recognized emerging trends and forces in the country and made public law more responsive to them.

From Findlaw
The first book-length work seriously to attempt to analyze Justice Cardozo's legal philosophy, principally through Levy's long (over 100 page) introductory essay; followed by selected opinions of the Justice, beginning with the Palsgraf case.

Beryl H. Levy was a professor at the Columbia University School of Law.

Acknowledgment
xiii
I.
Cardozo in Contemporary Jurisprudence
3
Steering the Course
3
Legal Realism
14
Philosophy and Law
22
II.
Doing Justice
35
A Dying Myth
39
'Standing on' Precedent
46
Function of the Past
57
Vitalizing Law
59
Enforcing Ethics
60
Judicial Prestige
63
Collateral Factors
64
The Content of Justice
68
III.
The Judge as Artist
83
Constructing the Opinion
84
Reshaping the Legal Corpus
96
Moulding Society
101
Summary Conclusion
112
Introduction to Opinions
121
Opinions
Torts: Palsgraf v. Long Island R.Co., 248 N.Y.339, 162 N.E.99 (1928)
124
Contracts: Wood v. Lucy, Lady Duff-Gordon, 222 N.Y.88, 118 N.E.214 (1917)
142
Criminal Law: People v. Zackowitz, 254 N.Y.192, 172 N.E.466 (1930)
145
Agency: Schloendorff v. Society of New York Hospital, 211 N.Y.125, 105 N.E.92 (1914)
159
Partnership: Meinhard v. Salmon, 249 N.Y.458, 164 N.E.545 (1928)
168
Equity: Globe Woolen Co. v. Utica Gas & Electric Co., 224 N.Y.483, 121 N.E.378 (1918)
180
Legal Ethics: Matter of Rouss, 221 N.Y.81, 116 N.E.782 (1917)
187
Corporations: Berkey v. Third Avenue R.Co., 244 N.Y.84, 155 N.E.58 (1926)
196
Damages: Jacob & Youngs v. Kent, 230 N.Y.239, 129 N.E.889 (1921)
206
Surety: Fosmire v. National Surety Company, 229 N.Y.44, 127 N.E.472 (1920)
212
Insurance: Silverstein v. Metropolitan Life Ins.Co., 254 N.Y.81, 171 N.E.914 (1930)
215
Wills: Matter of Fowles, 222 N.Y.222, 118 N.E.611 (1918)
219
Domestic Relations: Mirizio v. Mirizio, 248 N.Y.175, 161 N.E.461 (1928)
226
Negotiable Paper: Strang v. Westchester County Nat.Bank, 235 N.Y.68, 138 N.E.739 (1923)
231
Public Utilities: People ex rel. Lehigh Valley R. Co. v. State Tax Commission, 247 N.Y.9, 159 N.E.703 (1928)
235
Conflict of Laws: Dean v. Dean, 241 N.Y.240, 149 N.E.844 (1925)
241
Trusts: Re Horner's Will, 237 N.Y.489, 143 N.E.655 (1924)
245
Sales: Henry Glass & Co. v. Misroch, 239 N.Y.475, 147 N.E.71 (1925)
258
Real Property: Roman v. Lobe, 243 N.Y.51, 152 N.E.461 (1926)
267
Procedure: Tauza v. Susquehanna Coal Company, 220 N.Y.259, 115 N.E.915 (1917)
272
Evidence: Doyle v. Hofstader, 257 N.Y.244, 177 N.E.489 (1931)
279
Constitutional Law: Helvering v. Davis, 301 U.S.619 (1937)
300
Index
311