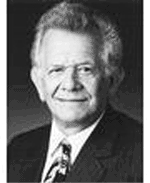 John O. Whitney is Professor of Management and Executive Director of the Deming Center for Quality Management at Columbia Business School, which he joined in 1986. Prior academic experience includes seven years at the Harvard Business School where he taught Creative Marketing Strategy, was chairman of the Written Analysis of Cases course, and was Associate Dean from 1970 to 1972.
Most of Professor Whitney's experience, however, has been in the business world. He was an entrepreneur in Tulsa, Oklahoma, where he founded several businesses from 1955 to 1967, when he joined Harvard. After leaving Harvard he became president of the Pathmark Division of Supermarkets General Corporation, where he led his first business turnaround from 1972 to 1977. Subsequently, he has been chair-man or CEO of other turnaround companies.
Professor Whitney is on the board of directors of the Turner Corporation (AMEX), where he is a member of the Audit, and Compensation and Directors' Affairs Committees. He also serves on the board of directors of Church and Dwight Corporation, (NYSE) where he is a member of the Compensation Committee, and Atchison Casting Corp. (NYSE) where he is the Chairman of the Audit Committee; and serves on the Advisory Board at Newsbank Corporation.
Professor Whitney received the Distinguished Alumnus Award of the University of Tulsa in 1979, and was awarded the 1988 Singhvi Prize for Teaching Excellence at the Columbia Business School, which he again won in 1996. In 1993 he was named by Business Week's guide to The Best Business Schools as "Columbia Business School's most outstanding professor. " He was chairman of the Harvard Business School Club of greater New York, a member of the Executive Council of the Harvard Business School, and was a member of the Joint Labor Management Council in Washington, D.C. from 1975 to 1977.
Recent consulting assignments include Alcoa Corp.; Wickes Lumber; Rodale Press; Sunstar, Inc. (Osaka, Japan); the Zimmer Division of Bristol-Myers Squibb; the Lab Glass Division of Corning, Inc.; Merck & Co.; W.R. Grace Corporation; The Nashua Corporation; The IBM Corporation; IBM South Africa; IBM Brazil; John Hancock Mutual Life Insurance; Aetna Insurance; Rhone Poulenc; Azko Nobel; Chemical Bank (Chase); The Forum Corporation; Premier Health Alliance; The Barnes Group, Inc.; and others. Professor Whitney's article in the June-July 1996 issue of the Harvard Business Review, "Strategic Renewal for Business Units," has been adopted as a planning tool for major corporations, including Alcoa and Asea Brown Boveri. He has also written for The Wall Street Journal, CFO Magazine, The Planning Review, The AMA Management Journal, and numerous other business publications. His first book, Taking Charge: A Management Guide to Turnarounds and Troubled Companies, 1987, has been characterized as a "Bible" in the turnaround business. His most recent book, The Trust Factor, was published by McGraw-Hill in September 1993, and was reprinted in 1995 as The Economics Of Trust.