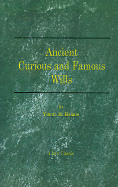 Ancient Curious and Famous Wills
By Virgil M. Harris


2000/09 - Beard Books - Law Classic
1587980711 - Paperback - Reprint - 488 pp.
US$34.95

An entertaining collection of wills, reflecting the times and the people who wrote them.

Publisher Comments

This collection offers delightful reading for lawyers and laymen alike. As the author states: "Wills reflect, as a mirror, the customs and habits of the times when written, as well as the characters of the writers." In the category of ancient wills, the reader will find the oldest written will, dated at 2550 B.C., as well as wills of such personages as Plato and Aristotle. Other categories in the collection include: wills in fiction and poetry; curious wills; testamentary and kindred miscellany; wills of famous foreigners, such as Napoleon and William Shakespeare; and wills of famous Americans, such as Benjamin Franklin and Thomas Jefferson.

No book reviews available

Virgil M. Harris, was a member of the Saint Louis bar, a lecturer on wills in the Saint Louis University Institute of Law, and the author of law books.

Introduction
xi
CHAPTER I
The Importance of the Last Will and Testament
1
CHAPTER II
Ancient Wills
10
CHAPTER III
Wills in Fiction and Poetry
49
CHAPTER IV
Curious Wills
73
1. Relating to Husbands, Wives and Children
73
2. Relating to Animals
90
3. Relating to Charity
102
4. Relating to Burial
122
5. Miscellaneous
158
CHAPTER V
Testamentary and Kindred Miscellany
203
CHAPTER VI
Wills of Famous Foreigners
249
CHAPTER VII
Wills of Famous Americans
324
Index
455