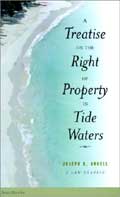 A Treatise on the Right of Property in Tide Waters: And in the Soil and Shores Thereof to Which is Added an Appendix, Containing the Principal Adjudge
By Joseph Kinnicut Angell


2001/08 - Beard Books - Law Classic
158798105X - Paperback - Reprint - 272 pp.
US$34.95

This treatise has been widely received as a leading authority both in the country and in England.

Publisher Comments

This was the first detailed work published in the United States concerning principles which relate to the right of property in tide waters, i.e., those waters in which there is an ebbing and flowing of the tide. There is a broad scope of topics covering such areas as the development of common law doctrines, the right of fishery, delimitation, the right to seaweed, rights acquired by prescription and custom, statutes and usage, adjoining owner rights, and wrecked property thrown on the shore.

No book review available

Joseph Kinnicut Angell was born in Providence, Rhode Island on April 30, 1794. He graduated from Brown University in 1813 and was admitted to bar 3 years later. From 1829 to 1831, he was editor of the Law Intelligence and Review. As reporter to the Rhode Island Supreme Court, he prepared the first published reports of that state. He wrote or co-wrote several books including Treatise on the Right of Property in Tide Waters, and Treatise on the Common Law in Relation Water-Courses. He died in Boston on May 1, 1857.

Other Beard Books by Joseph K. Angell

| | |
| --- | --- |
| Introduction | xi |
| CHAPTER I. | |
| The Roman and English laws in relation to the right of property in the sea, and arms of the sea | 15 |
| CHAPTER II. | |
| Of the introduction and application of the doctrine of the common law, concerning the right of property in the sea in this county | 35 |
| CHAPTER III. | |
| The public right of fishery in the several States, how affected by the royal charters | 53 |
| CHAPTER IV. | |
| What is by an arm of the sea, and by the shore: and the rule for determining high watermark considered | 60 |
| CHAPTER V. | |
| Of marine increases, and the right to sea weed | 68 |
| CHAPTER VI. | |
| Rights acquirable in salt and tide waters, and in the soil and shores thereof, by prescription and custom, and by grant | 87 |
| CHAPTER VII. | |
| Of the alterations and modifications of the common law doctrine, as it respects the right to the sea which have been effected by statute and by usage in this country | 108 |
| CHAPTER VIII. | |
| The right of those who own the land adjoining the shore to make embankments, such as wharves | 125 |
| CHAPTER IX. | |
| Of wrecked property thrown on the shore | 161 |