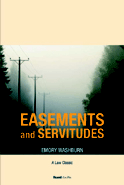 A Treatise on the American Law of Easements and Servitudes
By Emory Washburn


2000/04 - Beard Books - Law Classic
1893122794 - Paperback - Reprint - 722 pp.
US$34.95

An informative treatment of this important area of the law as it began to develop in the United States divergent from English law.

Publisher Comments

Recognizing that a jurisprudence must conform to the wants and circumstances of its own people, Emory Washburn developed the first treatise on this subject reflecting decisions of the courts of the United States. He found earlier treatises on this subject inadequate, as they were based solely on English law and on conditions that varied widely from those in the United States. This comprehensive study of the early developments of this area of the law is still vital today. It covers, among many other topics, the nature, character, and mode of acquiring easements and servitudes; easements and servitudes of way, of water, and other matters; loss and extinguishments; repairs of easements; and remedy for injuries.

No book review available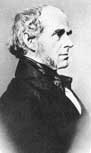 American educator, lawyer, jurist, governor, author
Governor of Massachusetts, he was born in Leicester, Mass., Feb. 14, 1800; son of Joseph Washburn (1755-1807), an officer in the Continental army during the Revolutionary war; grandson of Seth and Mary ([Harrod]) Washburn, and great2-grandson of John Washburn, secretary of the Plymouth colony in England. He attended Dartmouth college; was graduated from Williams, A.B., 1817, A.M., 1820; studied law at Harvard, and was admitted to the bar in 1821. He practised in Leicester, 1821-28; and in Worcester, 1828-56; was a representative in the state legislature, 1826-27, 1838, and 1876-77; state senator, 1844-42, serving as chairman of the judiciary committee. He was judge of the court of common pleas, 1844-48; Whig governor of Massachusetts, 1853-55; university professor of law at Harvard, 1856-62, and Bussey professor of law there, 1862-76. He was a trustee of Williams college, 1845-48; an overseer of Harvard, 1855-61; fellow of the American Antiquarian society; member of the Massachusetts Historical society, and of the American Academy of Arts and Sciences. The honorary degree of LL.D. was conferred on him by Williams and by Harvard in 1854. He is the author of: Judicial History of Massachusetts, 1630-75 (1840); History of Leicester (1860); Treatise on the American Law of Real Property (2 vols., 1860-62 ); Treatise on the American Law of Easements and Servitudes (1863); Lectures on the Study and Practice of Law (1871). He died in Cambridge, Mass., March 18, 1877. [Twentieth Century Biographical Dictionary of Notable Americans]

CHAPTER I.
Of the Nature, Character, and Mode of Acquiring Easements and Servitudes

Section I.
Nature, Classification, and Qualities of Easements &c.
1
Section II.
Incidents to acquiring Rights of Easements, &c.
22
Section III.
Of acquiring Easements by Grant
33
Section IV.
Of acquiring Easements by User and Prescription
93
Section V.
Of Easements by Public Prescription and Dedication
170

CHAPTER II.
Easements and Servitudes of Way

Section I.
Ways defined, and how they affect the Rights of Freehold
213
Section II.
Of Ways of Necessity
218
Section III.
Of Ways created by Grant
224
Section IV.
How Ways may be used
240
Section V.
Of the Rights of the Land-Owner and Way-Owner, in Land
252

CHAPTER III.
Of Easements and Servitudes of Water

Section I.
Of Property in Streams and Watercourses
264
Section II.
Of Rights of Irrigation
294
Section III.
Of the Use of Water for Mills
308
Section IV.
Of Rights in Artificial Watercourses
366
Section V.
Special Laws as to Mills
393
Section VI.
Of Rights in Rain and Surface Water
427
Section VII.
Of Rights in Subterranean Waters
440
Section VIII.
Of Rights to Eaves' Drip
468
Section IX.
Of Rights of Passage in Public Streams
474
Section X.
Of Rights in Water by Custom
488
Section XI.
Of Rights of Fishery
491
Section XII.
Of Servitudes of Water by the Civil Law, etc.
502

CHAPTER IV.
Of Easements and Servitudes Other Than Way and Water

Section I.
Easement of Lateral Support of Land
511
Section II.
Easement of Support of Houses
531
Section III.
Easement of Party Walls
535
Section IV.
Easement of Support of Subjacent Land
558
Section V.
Easement of Support of Parts of the same House
564
Section VI.
Easement of Light and Air
574
Section VII.
Miscellaneous Easements and Servitudes
595

CHAPTER V.
Of Loss or Extinguishment of Easements, Etc.

Section I.
Effect of the Unity of the two Estates
605
Section II.
Effect of conveying one of two Estates in reviving former Easements
612
Section III.
Of Changes in Estates affecting Rights of Easement
622
Section IV.
Of Acts of Owner of Easements affecting Rights to the same
627
Section V.
Effect of abandoning an Easement
631
Section VI.
Effect of Non-Use of Easements
639
Section VII.
Effect of an Executed License upon an Easement
649

CHAPTER VI.
Repairs of Easements and Remedy for Injuries

Section I.
Repairs of Easements
654
Section II.
Remedy at Law for Injuries to Easements
658
Section III.
Remedy in Equity for Injuries to Easements
668
Section IV.
Remedy by Abatement for Injuries to Easements
675